We made a successful start to the CIS League Cup this season with a 3-0 win at Morton. It was not quite a stroll in the park but despite Morton working very hard we never looked like losing.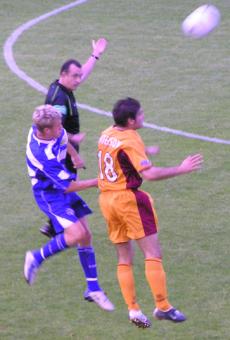 Morton made a bright start and had some nice passing moves but they lacked composure in front of goal and never threatened Marshall.We seemed quite content to stroke the ball around although the pressure put on our defence by the home forwards meant the occasional lump up the park was inevitable.


McDonald was again looking lively up front and he forced the Morton goalkeeper into a couple of comfortable saves.William Kinniburgh almost capped an excellent first half with a rare goal but a brave defender managed to block his goal bound volley.


Thankfully we did manage to score before the break and it was a wonderful goal when it came.The final part of a lovely move was an incisive ball from Leitch inside the Morton right back.Paterson skipped round the 'keeper and slotted home from an incredibly tight angle.After only scoring five times in over 100 United appearances, he was understandably delighted to have opened his 'Well account.


Morton threw everything at us at the start of the second half but clear cut chances were few.There was a header wide although Marshall looked to have the situation under control and there was another sticky moment when two defenders were required to make a penalty box block.


We were still threatening ourselves and the Morton goalie had to look sharp to parry an O'Donnell header from a McBride free kick.Stepover was ereplaced by Richie Foran who took his place on the left side of midfield.Less than ten minutes later the game was all but over when Greacan hauled down Clarkson in the box. he was clearly preventing a goalscoring chance and the defender walked.Foran and McBride raced for the ball but the player on loan from Celtic won and he smashed the penalty into the middle of the goal.


Heads up in the box!


Martyn Corrigan had a great run into the box before shooting high and wide but we capped our display with a third goal.McBride crossed from the right, Foran flicked it on and the ball fell to Clarkson.The young striker mis-controlled the ball but his bad touch took him round the goalie and he thumped the ball into the empty net.


Morton had a late flurry and won a highly debatable penalty when Corrigan was harshly adjudged to have pulled his man.It was a sympathetic decision from Willie Young – who had spent most of the game strolling around the centre circle, pompously making incorrect decisions – but to no avail, Marshall dived to his left and brilliantly palmed the ball away.


So, perhaps 3-0 flattered us slightly but we were the only team who looked capable scoring tonight and deserved our win.Goals from McBride and Paterson will give them a boost and Clarkson's opening goal will keep his confidence high.We can now look forward to a place in the League Cup 3rd round draw and the visit of Hearts on Saturday.

It has been a good couple of days for us!
Read more about our CIS 2005 campaign.