One loss against Hamilton is a disappointment but to lose twice in the same week is a humbling experience and on that will have a chilling effect in the Motherwell dressing room. McCall made a remarkable seven changes to the starting eleven from the team that was beaten by penalties in midweek but we were never in control of the game. The manager stated before kick-off that Lasley, Vigurs and O'Brien were the only forced changes (respectively hamstring, groin and knee problems) and that the effect of two hours on the artificial surface meant that fresh faces were needed.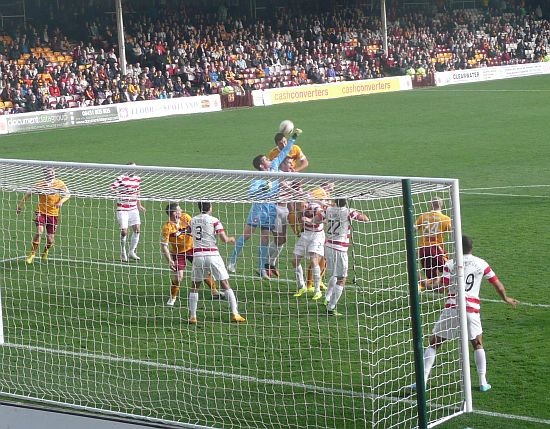 It was one of those games when early exchanges gave an indication of the likely outcome. McManus, Lawson and Francis-Angol were in the referee's booked inside 15 minutes as we tried to stem the flow of the game towards Twardzik's goal. We rode our luck for a while before a schoolboy error from Francis-Angol gave Andreu the chance of an easy goal from 12 yards.
Accies scored a second on the stroke of half time when Lawson's lack of control gave Crawford an unchallenged run in to the box. His finish found the same corner as the first goal. The inevitable half time changes were made. Sutton and Reid replaced Lawson and McManus and we had our best spell of the match. Sutton and Erwin had four opportunities just before the hour but McGovern dealt comfortably with the threats.
It came as no shock that we lost the third after a break. Kerr's clumsy attempt to block Longridge inside the box produced a yellow card and a penalty that Anton-Curier rolled into the net. The fourth came with 90 minutes on the clock from Crawford.
The loss underlines the current problems at Fir Park. Gone is the flair and confidence that saw us challenging at the top end of the table in recent seasons and instead there is a injury riddled squad quite unable to string half a dozen passes together. The prospects for the rest of the season look bleak.
Motherwell 0 Hamilton 4
Attendance 4,125
Team: Twardzik, Francis-Angol (Law 80), McManus (Reid 45), Kerr, Ramsden, Carswell, Leitch, Lawson (Sutton 45), Ojamaa, McHugh, Erwin