Motherwell crashed out of the cup thanks to a 2-1 home defeat against Aberdeen. Bad refereeing, bad defending, bad finishing and an all round bad performance means we have no complaints.
We started in positive fashion with Murphy having a decent half chance blocked but just moments later things began to go wrong. The linesman made a horrible error in awarding a corner when a goal kick was the correct decision but there was no excuse for how we defended the resulting set piece. A first header was lost and then the second as Fallon powered into the net and we were one down.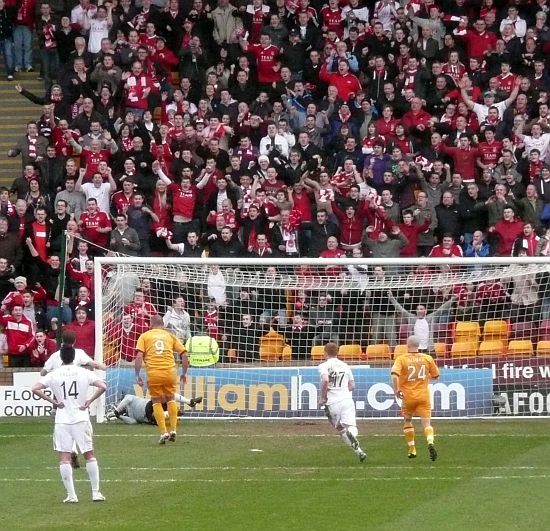 The fatal moment
Our players reacted badly to going a goal down and we had a let off as Aberdeen could have nicked a second as they enjoyed their best spell of the game. We were then given the ideal chance to get back into things when Higdon was fouled in the box but his well struck kick from the spot was saved and the sense of gloom increased. With Craigan being injured in the warm up and Hutchinson then going off with a strain, the feeling it wasn't our day only increased.
We failed to make another chance in the half and Aberdeen doubled their lead just before the break when Fallon was left free at the back post and his volley left Randolph helpless so put us in deep trouble.
McCall was dismissed at half time, presumably for complaining about the corner decision, and no doubt he will hold his hands up for this loss of discipline. Kenny Black was left to push us on from the bench but with no personnel changes we offered next to no threat to a packed Aberdeen defence.
Indeed, the Dons were arguably the more threatening on the break but the match changed when Lasley was dismissed for a terrible lunge at Fyvie but remarkably this inspired us when we had nothing to lose. Law scooped home after Brown fumbled a cross to set up a frantic finale and we missed chances to level through Humphrey, whose cross was scrambled wide, and Clancy whose shot was magnificently saved. Pawlett missed a chance to secure things when Randolph was up front but regardless it made no difference.
With Craigan and Hutchinson injured, a poor decision going against us, poor defending, a penalty missed and poor performances from our major players it simply wasn't to be our day. In such a great season it is disappointing to exit the cup to a team as limited as Aberdeen but we still have plenty to play for and Stuart McCall will have his work cut out in patching up our injury and suspension hit team to chase league points next weekend.