Needing a point to stay up we were utterly outfought. To add to a miserable night Reynolds and McDonald saw red and Paterson went off injured. Oh and the final score was 4-1.
I did take notes throughout the game as a dutiful reporter but listings of the incidents are available elsewhere. The story tonight is the fact that we simply didn't turn up and didn't look in the slightest bothered about it either.Craigan showed some passion, in fairness and ironically the one other player who seemed to give a toss, Scott McDonald, made the worst mistake of the night. When everything was lost it was McDonald who kept looking for the ball and running at defenders and trying to make something happen.
He might be a detestable little gimp but he shares a hatred for losing that seems typical of all Australians. Unable to handle taunts from the home fans as he crashed home a consolation penalty he flew into Muirhead with an utterly reckless challenge a minute later and was sent off. It is likely the resulting ban will put him out for the rest of the season, a shameful end to his Motherwell career and something which could cost us dearly.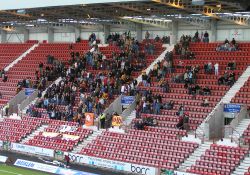 The hardy few were let down - again
That McDonald's tackle wasn't as bad as Burchill's on Paterson (he only received a yellow, Stepover went off injured) is no excuse. Reyonlds red card came with the game already over as he handled when McIntyre would have been through to make it 4-0. It was somewhat accidental as he simply misjudged the bounce but it hit him square in the arm with the striker about to go beyond him so no complaints. The last goal was conceded as we pushed forward, Burchill found space on the left on a breakaway and Jim Hamilton had a sitter of a header at the back post. But that goal was not the issue as the damage had already been done.


Right from the beginning we were up against it.Hammill turned Corrigan - who had an embarrassing game and was switched to left back inside 40 minutes - inside out and O'Brien was free at the back post to shoot home. A harmless looking free kick was headed home by Wilson after he lost Reynolds and the game was over before we had started. Graeme Smith was not the primary villain on either goal but he should have done better on both.McDonald had a great chance just before the break but through on goal he beat De Vries and squeezed his shot inches past the far post.
Malpas had to earn his money at half time but on a night of failures the manager was no exception.If anything we were even worse after the break, at least for the 10 minutes before McIntyre's soft penalty win was converted by Glass. That Malpas did nothing at half time was unsurprising. He has struggled tactically all season and his changes (swapping the full backs and wingers to the opposite sides) suggested he was a man who knew something had to be done but had no idea what. The switches stopped Corrigan being humiliated further by young Hammill but did little else.


So, positives?Scott Wilson being sent off for hauling down McCormack en route to the penalty is the only one I can think of.This really was dire.We find ourselves in this situation of our own making and regardless of how the next two weeks pan out, Maurice Malpas - and almost all the playing staff - must be severely questioned.