This was one for the history books. It started with the dancing girls, live TV, floodlights and a crowd of 6,241 in festive mood as they took advantage of the club's cut price offer for the game which promised the chance of a Europa League place.
It was a game of heroes and villains dressed in claret and amber. The defence was awful, shipping goals for fun, but the determination shown by the forwards reaped a terrific reward. In summary……
11 minutes 0-1 Nish (a tap in following slack defending)
16 minutes 1-1 Coke (close in finish from Jukiewicz pass)
20 minutes 1-2 Nish (more poor defending from throw-in)
28 minutes 1-3 Riordan (Coke slack back pass after heroic chase for the ball)
36 minutes 1-4 Nish (what was the defence doing?)
39 minutes 2-4 Sutton (good header, O'Brien's cross)
Half time
56 minutes 2-5 Stokes (defence stood back and watched!)
65 minutes 2-6 Stokes (unmarked)
67 minutes 3-6 Coke (O'Brien shot rebounded for close finish)
72 minutes 4-6 Hateley (free kick, Smith at fault)
76 minutes 5-6 Sutton (header from O'Brien corner)
86 minutes Forbes penalty saved (poor attempt)
93 minutes 6-6 Jutkiewicz (world class hook from acute angle to far top corner)
Phew!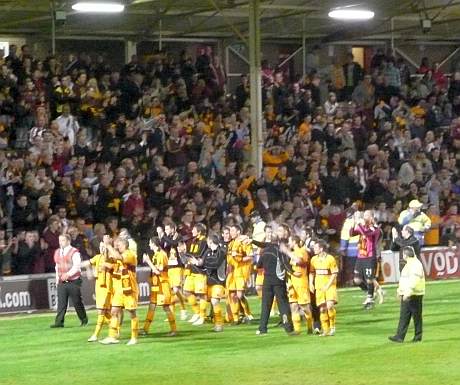 The post-match parade
The first half in particular displayed some shocking defending as we seemed reluctant to get a tackle in. Stokes, Riordan and Nish caused havoc everytime they approached our box and the game looked to be beyond our reach after half an hour. The Sutton goal six minutes before the break was crucial as it kept us in touch. Craig Brown's former reputation for delivering solid defensive performances seemed long gone as his charges conceded easy goals time after time.
We looked the more likely to score in the first ten minutes of the second half. A Hateley free kich rattled around the box and could have finished anywhere. O'Brien produces a fine run leaving Hibs players in his wake but Jutkiewicz made little of the opportunity he was given.
We crumbled again and conceded another pair. 2-6 and some 'Well fans felt they had seen enough. Somehow the guys dug deeper than deep and managed to score four in the last twenty five minutes. Just to add to the drama Forbes took a weak penalty at 5-6. The record was reached when Jutkiewicz scored one of the finest goals ever to be seen at Fir Park. He chased a high ball to the eighteen yard line and despite the attentions of a couple of defenders he gained control. With his back to goal and wide on the left in front of the Cooper stand he launched a left footed hook shot over Smith and it hit the net high in the far corner. The crowd, already at fever pitch, exploded and the Hibs players collapsed in disbelief. Nish said after the game that he was "absolutely gutted".
The end of season parade after the final whistle has rarely been more deserved. It was a fantastic evening's entertainment and (for a change) those fringe supporters drawn in by the £10 offer will be tempted to return. Fifth place is now secure and if we match Hibs' result on Sunday we'll finish fourth.