They did it the hard way but Motherwell eventually earned a valuable three points against Inverness at Fir Park to move off the play-off place. An early two goal lead was squandered but persistence delivered a 4-2 triumph.
We had dream start and a two goal advantage inside 10 minutes but an unlucky deflection followed by a defensive lack of concentration allowed the visitors to equalise. A favourable decision by the East Stand assistant and a close range header from Campbell eased the way up the table.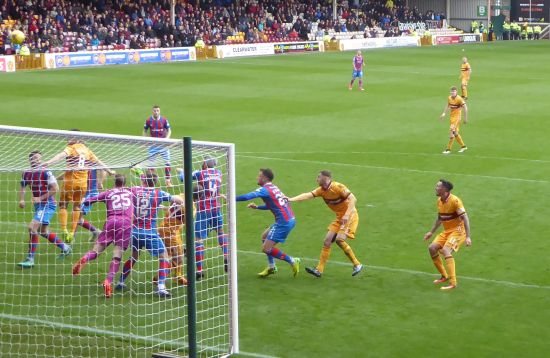 Out top scorer returned to duty much to the relief of all Motherwell fans. Along with Moult came Hammell and a first and well deserved start for Campbell. Clay, Jules and Gordon made way.
The 3-4-3 formation was used again and it provided a platform for the early pressure we placed on the ICT goal. Early success came with a wonderful run from Cadden. He attacked the angle of the penalty area leaving a couple of defenders in his wake before firing into the net with six minutes on the clock.
Two minutes later found Moult wide on the left and he delivered a routine cross into the box. After one bounce it beat both attackers and defenders and nestled in the back of the goal. We were two up after nine minutes and the Inverness was in disarray.
A third almost arrived when Moult unleashed a fierce shot that Fon-Williams couold only parry. Bowman pounced first but the 'keeper was able to block his shot.
There seemed to be no real danger when Fisher tried his luck, a routing shot that Samson had covered, but a deflection off Fisher sent the ball into the Cooper goal. The scorer should have drawn his side level when he was clean through with only Samson to beat but our man got a hand to the goal bound shot and conceded a corner.
The equaliser came ten minutes into the second period when slack defending gave Fisher a chance that he converted.
The home crowd may have feared the worst but to the players' credit they did not buckle. The manager, never slow to make changes, immediately replaced Bowman with Ainsworth and we set to work.
The dividend came in 65 minutes when Frear, from the right, send a far post cross in for McDonald. The header came off the post and the ball was scooped away by the 'keeper. Had the ball crossed the line? Referee Collum looked to his assistant and the goal was awarded.
After 5 minutes McDonald produced some excellent work in the box before setting up Campbell for a short range header that sealed the victory.
This was a 'must win' game for Inverness and their defeat gives us a seven point gap. Much work remains but focus now turns to the next big game with Dundee in a fortnight.
Motherwel4 Inverness 2
Attendance 3,696 (182)
Team: Samson, Hammell (Jules86), Heneghan, McHugh, Moult (Blyth 84), Bowman (Ainsworth 59), Cadden, Frear, Campbell, McDonald, Pearson