A fine Foran header enabled us to progress into the fourth round of the cup as the only Lanarkshire representative.
Murphy and Malloy were introduced to the joys of the Scottish Cup due to Paterson's injury and Fitzpatrick's suspension.We kept our usual shape with McDonald and Clarkson leading the line while the home team opted for a five man midfield with the lone Twigg having the thankless task of having to cope withCraigan and Reynolds.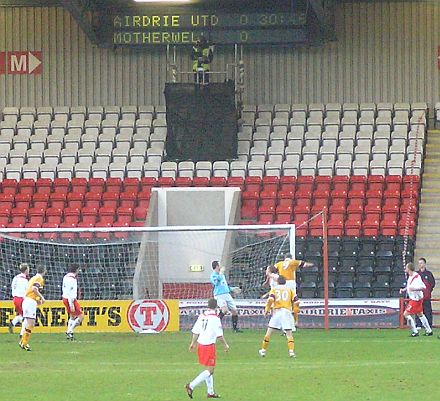 Foran's winning goal
It was clear from the start that our mind set was correct and that there would be no complacency on show.We camped in their half and set about finding a way through their defensive setup.However, the first excitement came at the other end when a stramash developed at Smith's near post.An early warning that United were capable of causing a problem ifour concentration was to be lowered.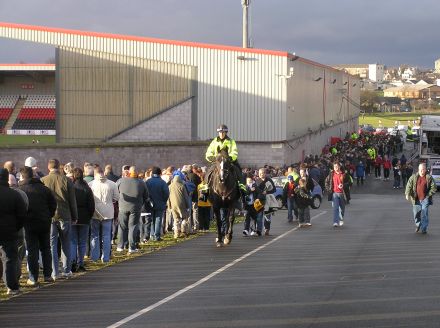 A patient wait
Foran looked in the mood and in eighteen minutes he sprinted down the left wing before firing a fine cross which just outpaced our strikers.He was to get his reward on the half hour when Murphy's free kick found our man at the back post.His header flew beyond the keeper and, as it happened, it won the match.


We looked comfortable for the rest of the half but created nothing.Airdrie came close though when a McKenna effort from twenty five yards beat Smith and thundered off the bar.


The second half was a disappointment.The pitch was cutting up badly and both teams misplaced lots of passes.The appearance of Darren Smith for Malloy did produce a few lively attacks and the youngster looked the part.


Murphy showed a few nice touches and his ball striking looked to be a useful asset.


The pressure was beginning to grow on our goal and it looked increasingly likely that we would have to hold out rather than increase our advantage.The pressure increased when Kenny Black introduced a couple of attacking substitutes and with ten minutes remaining we were camped in our box for several uncomfortable episodes.


Our goalkeeper earned his win bonus several times over as he stood up to several attempts on target but we did have a few late chances to increase the gap.McDonald failed to hit the target from twenty yards, Darren Smith was booked for 'simulation' in the box (TV pictures will be interesting) and finally Clarkson spurned a very late chance when it seemed that a goal was likely.Had Twigg's header been on target in the final minute we would have been facing a replay but, happily, it bounced harmlessly on the wrong side of the post.


We all know that the only thing that matters is that we are in the hat for the next round.Mission accomplished.The next target is to gather three points from Love St next week.