We cruised into the third round of the Communities League Cup with a comprehensive 4-0 win over Clyde at Broadwood. The banana skin was avoided and we look forward to Monday's draw.
Stuart McCall decided to give youth a chance and fielded a team with six changes from the last outing. Motherwell started with Halsman, Page, Hutchison and Hateley in defence; Law, Forbes, Lasley and Lawless in midfield and Higdon and McHugh leading the line.
Both teams had long range shots in the opening minute though it was Hollis who had to make the saves. Our keeper then showed of some nifty dribbling skills when he took on a couple of lurkers in his own box.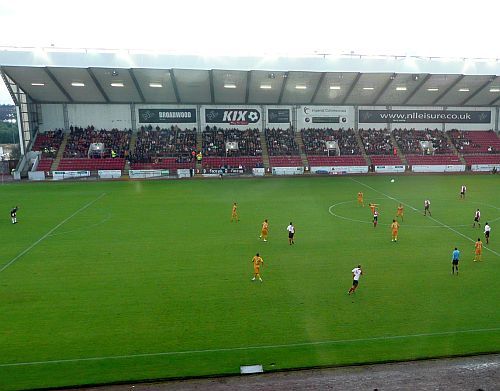 A decent Motherwell support
The 'Well support got a reward for their perseverance in reaching the away car park when they saw Higdon open his account for Motherwell in 17 minutes. Forbes delivered a corner at head height and the big striker dipped to get his forehead on the ball and we were off the mark.
We were put into the comfort zone shortly before half time when Law showed some class and sauntered through the midfield before belting the ball into the net from the edge of the box. The first period provided no real concerns at the back but we had several wild shots nowhere near the target.
Higdon almost gave us a quick goal after the resumption but his goal bound effort from twelve yards was foiled by a fine one-handed save from Hutchison in the Clyde goal. Our own Hutchison thought he had scored minutes later but McHugh managed to get his head in the way on the goal line!
Hateley redeemed himself following an indifferent first half with a left footed curler from the corner of the box. We were on easy street and McCall, not known for his substitutions, took off Law, Higdon and Lasley and sent on the boys. Carswell, Smith and Humphrey brought down the average age of the team and they had over half an hour to make an impression.
Halsman and Lawless did well on the left but both will have to fill out before they become regulars. Page and Hutchison were at ease in front of the Hollis.
Just as the game was five minutes into a pedestrian finish, Forbes flicked to Smith in the box. His effort was blocked and fell to Lawless who turned and whpped the ball beyond the 'keeper for a fine goal on his debut.
It was a straightforward win against a disappointing Clyde team that the form book suggested might has offered stouter resistance. Bring on the next round.