The win included our third clean sheet in four and stretched our winning run to five. Goals are coming from all over the pitch at the moment and our defence is looking good. A special mention is due for Dan Twarzdik. He was plucked from the second string at Dundee as an emergency goalkeeper and his CV now shows five winning games in the Premiership. His loan spell is now over but many Motherwell fans would be happy to see him in our colours at some point in the future.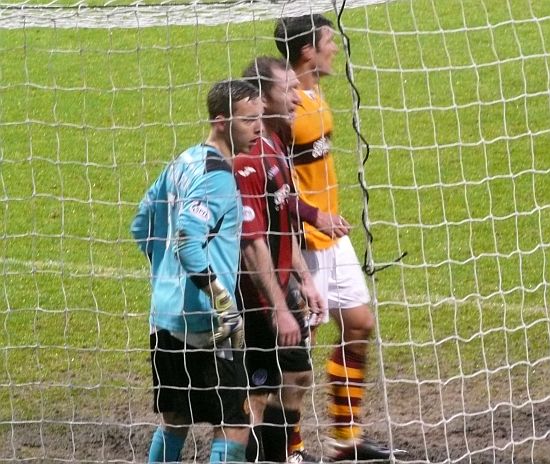 Many thanks Dan!
After the changed line up against Partick Thistle, we reverted to the tried and tested side that has served well in the first half of the season. It did not take them long to take control and within minutes he Mannus goal was under severe pressure. McManus produced a fierce shot that had the crowd (and the rest of his team) cheering the opener but amazingly the ball struck the bar twice but the officials judged the ball still to be in play.
The first goal arrived in 20 minutes when Sutton got his head to a fine cross from Vigurs. As the deluge continued the visitors raced to the Cooper end and Twardzik had to make a couple of good stops. We hit the woodwork again when Carswell's effort cracked the post but we had only a one goal lead at the break.
Vigurs changed that two minutes after the restart. Ainswoth was the provider, cutting into the box from the right and leaving a couple of defenders in his wake. His shot was parried by Mannus but Vigurs pounced and his shot found the net.
St Johnstone pressed again and there was chaos in out six yard box before a frantic clearance eased the pressure. Ainsworth's contribution grew as the game progressed and he produced an 80 yard break that ended with a near post shot well saved. He was due a goal and it came in 72 minutes. Hutchison headed a corner against the bar and the ball fell to the winger at the edge of the box his low drove found the corner off the goal and we were in command.
The changes were made, McFadden replaced Sutton and the fourth goal followed. From 20 yards he drilled the ball to the left corner before celebrating with the East Stand fans.
It was a comprehensive and confident win that maintains our position in the table. The last of the festive fixtures comes on Saturday when Inverness come to town. Here's a question that hasn't been asked for some time...can we make it six wins in a row?