The free kick was awarded two minutes into added time when substitute Blackman was fouled 25 yards from goal. The wall formed and Forbes and Hateley stood ready to deliver. The referee blew just before the kick was taken to calm the jostling in the box and when Hateley took the retake it flew over the wall into Carroll's top right corner. The 500 travelling fans behind the goal erupted and the final whistle blew. The lifeline goal that turned the tie resulted in the fans staying in the stand for half an hour after the game, cheering Boyle, Brown and Hateley when they emerged from the tunnel for media interviews.
The game started well. Craig Brown fielded the same starting eleven that faced Hibs on they showed their determination to attack with Murphy having an attempt after 30 seconds. Reynolds was booked early on for a high boot (a bit harsh) and the game settled. Humphrey delivered a series of crosses but there were no takers. Randolph had nothing to do for the first twenty minutes and dealt comfortably with the shots which came his way.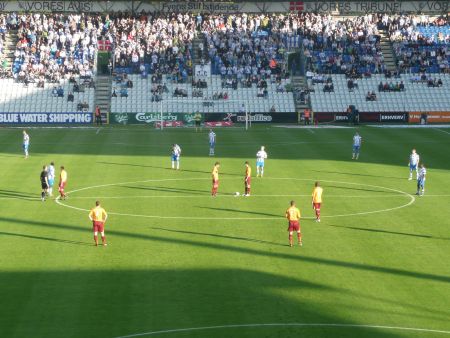 We lost a crazy goal after 30 minutes. A fairly harmless free kick was floated into the box by Sorensen and as it entered the six yard box Christensen lunged at it and distracted Randolph. He got no touch and the ball bounced into the corner of the goal. It was a lead that was barely deserved and so it remained at the break.
Gislason came close after the resumption with a low effort just wide of the keeper's right hand post. Jennings saw yellow for a high elbow and a sense of grievance began to grow as our opponents seemed to escape similar punishment. We were careless with possession at times, Craigan being a notable in this regard. Sutton looked uncomfortable in midfield and we seemed to lose rhythm. Our main line of attack was down the right via Humphrey. Sutton had a couple of headers but no goal threat resulted.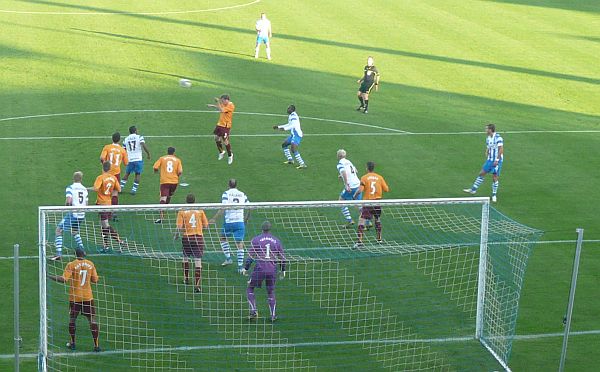 Lasley and Murphy were pulled and Forbes and Blackman thrown on. Five minutes later we conceded a second. Craigan was skinned by the speedy Utaka and the striker then rounded Randolph and smashed the ball into the net.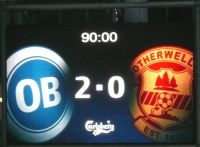 Jennings paid the price for a silly challenge in the final minutes. His second yellow let him into the bath early and will weaken us for the second leg.
The outcome looked bleak at that stage but we kept plugging away and got the reward at the death. A two goal margin flattered the home team and one goal was the least that we deserved.
The disappointing crowd of 5,100 will be bettered at Fir Park next week for what should be another thrilling European night.


Team: Randolph, Saunders, Hammell, Reynolds, Craigan, Hateley, Humphrey, Jennings, Murphy, Sutton, Lasley