Kevin van Veen's brace delivered a marvellous 2-0 win for Motherwell in Dingwall. Ten points from twelve and on the way up.
The Dutchman loves Victoria Park as his goal haul is now five this season. The game was not one for football purists but that mattered little to the 'Well fans as they sang praises of their team long after the final whistle.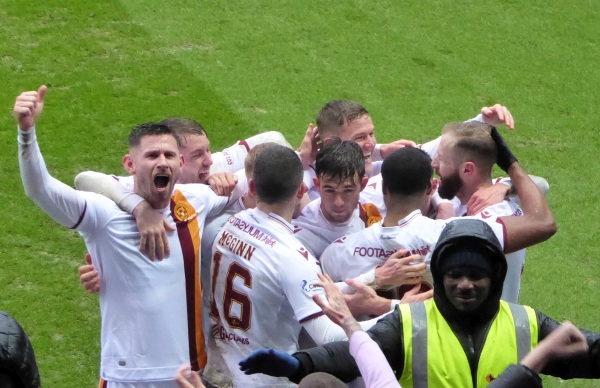 Stuart Kettlewell chose Callum Slattery ahead of Dean Cornelius for this match as he sought to stretch his unbeaten run to four.
The first half had lots of goalmouth action and both goalkeepers had their moments. Ross County started stronger but after an opening fifteen minutes the battle evened out. Defences gave little thought to anything other than sending the ball long and far only to see it returned with interest.
A couple a VAR interventions were significant. Five minutes into the second period Don Roberston awarded a penalty to the home side following a tug by Calum Butcher on Jack Baldwin. The referee was directed to check the replay and changed his mind. It seemed that Baldwin had pulled Butcher's shirt first in the exchange.
With twenty minutes remaining Baldwin hauled van Veen to the ground just outside the box as the striker ran in on goal. An initial yellow was wiped as a second look from the sideline led to a red card for the County captain.
The balance of the game turned. Motherwell took advantage of their extra man and for the first time in the match Liam Kelly spurned the long ball and rolled to Furlong in the left back position. After half a dozen passes Cornelius set up Blair Spittal at the dead ball line. The cross was met by the rising striker with a powerful header to open the scoring. It was a fitting reward for the best move of the match.
Ricki Lamie was added to the back line as insurance against the fightback and the defence held. Van Veen's energy and commitment led to the clincher. He pushed forward and cused panic in the stretched defence. A shot was blocked but it fell to the striker to win the game.
The result completes a wonderful turnaround in Motherwell's faltering season. Three wins and a draw have produced a ten point gap for the bottom.
Ross County 0 Motherwell 2
Attendance
Team: Kelly, Johnston, Casey, Butcher, McGinn, Furlong (O'Donnell 90+1), Spittall, Goss (Cornelius 64), Slattery (Lamie 82), Obika, Van Veen
Saturday 4 March 2023