Curtis Main earned Motherwell a point when his goal in the fifth added minute launched 600 'Well fans of their feet at Tynecastle. The players had given their all for the cause.
Both teams did well in the windy conditions to keep the ball down and they delivered an entertaining spectacle. Hearts had the best of the chances but they had to wait 80 minutes before they could breach our defence. They came close to extending the many hours without losing a goal but as the end of added time drew near we broke through to snatch a valuable point.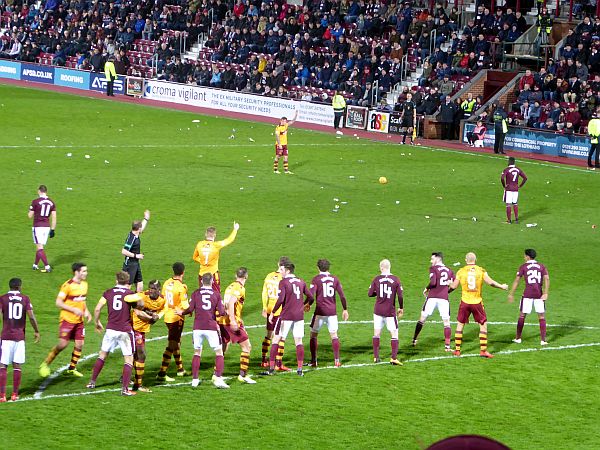 Richard Tait returned to duty as Tanner moved to the bench. Despite the redeveloped stadium surrounding the pitch with impressive stands the strong wind was a significant factor but the players adapted well.
The home side hit the woodwork twice and forced Carson into action a couple of times before the break. Naismith's shot after 25 minutes was well parried and the rebound saved.
It was pleasing to see the team seeming to return to the well organised cohesive unit that characterised our early season. There was plenty of energy on show and the back three of Dunne, Kipre and Aldred looked solid.
We had a few half chances in the first half, the best followed Kipre's ball down the right wing to Ciftci. The cross found Main but his header was just wide of target.
Tanner replaced Ciftci early in the second half and soon had a chance. He burst through the centre but could not outrun the defence who caught him just inside the box.
Milinkovic opened the scoring when the ball fell to him after a free kick from midfield. His shot gave Carson no chance.
We redoubled our efforts and took heart when the fourth official indicated 5 added minutes. Main, who had a fine afternoon, was fouled and we were awarded a free kick in the 94th minute and all our outfield players lined up for Tanner's delivery. Rose cut it back from the dead ball line, it was knocked forward and Maid stooped to head home from close range. Cue celebrations in the Roseburn stand.
On to Easter Road on Wednesday!
Hearts 1 Motherwell 1
Attendance 16,671 (562)
Team: Carson, Tait (Petravicius 83), Cadden, McHugh, Main, Rose, Dunne, Aldred, Kipre, Campbell (Bigirimana 76), Ciftci (Tanner 54)

27 January 2018