What a game! We tore Dundee United to shreds in a fantastic early spell in the first half and went on to win by five goals to three in a score which flattered the opposition. Motherwell are now six points clear in third place as the year draws to a close.
The quality of football on show in the first half hour was breathtaking.Motherwell flooded towards the South Stand goal and overwhelmed the United defence. We had three goal attempts inside the first three minutes and started to show the same flowing style of play which has won so much praise already this season.


The game was killed off as a contest in a sparkling three minutes spell. Hughes started the proceedings in ten minutes when Clarkson set him up for a fine shot from the left side of the box. Next came a Porter header which beat the keeper at his left and then McCormack fed on the rebound from Porter's effort. We were three up and the stadium clock showed fifteen minutes.


The United defence were being opened by slick passing and fast running. We looked like world beaters. Levein tried to stop the rot by making a double substitution and Wilkie was moved into a striking role. To some extent the tactic worked as we were pushed back for some spells and they got a reward ten minutes before the break when Robertson scored with a powerful header which gave Smith no chance.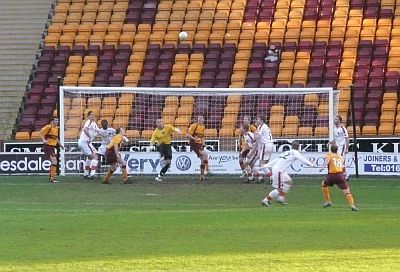 A first half attack
McCormack could have restored the three goal lead when he had only the Polish keeper to beat but he took a touch which lead him away from goal instead of trying a first time attempt. Our fiery striker was booked just aster the break when the referee took the view that he dived inside the box. The television replay will show whether he was correct.


We were treated to a double from Clarkson. McCormack's fine free kick found Clarkson at the far post and he fired the header into the net. A minute later he chipped in a delightful lob.


United got a couple of late efforts squeezed though crowded boxes to take the shine of the score but it was a well deserved win.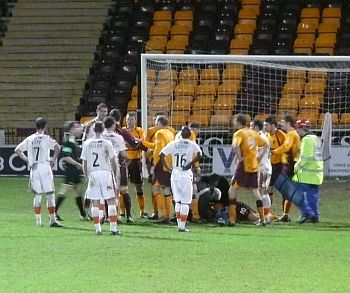 Phil O'Donnell

One major concern was over the health of Phil O'Donnell.As he was called in for substitution he collapsed.There was a dreadful five minutes while first aiders and medics tended to him. He was stretched off and taken to hospital.

Phil O'Donnell 1972-2007