Stuart McCall's plan worked to perfection. We allowed Aberdeen lots of possession but restricted their opportunities. As the game's end came into sight we pushed forward and in the added minute scored the goal that sent the 1,000 'Well fans in the stadium and the thousands watching on TV wild celebrations.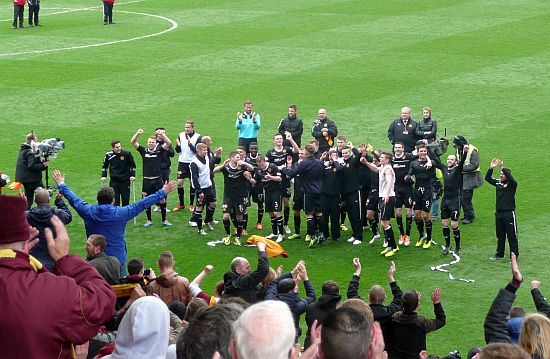 Kerr joined the eleven as McFadden was benched and we lined up with a 4-5-1 shape. The game that followed was entirely predictable. The Dons had the ball for long periods and we were camped in our last third. The first of several scares arrived after 15 minutes when Hollis dallied before putting his defenders under pressure with a weak clearance. There followed an Aberdeen free kick 19 yards out but our wall stood firm.
More than half an hour had elapsed before we had an attempt in front of the Merkland stand end, Vigurs has a blast high and wide. Anier was on target just before the break but Langfield saved comfortably.
The plan was working. Ainsworth had to be substituted after 20 minutes with Anier taking his place and Hollis had had a few punched clearances but we hoped that the home side would get anxioius the longer the game remained goalless.
Lasley was tripped just outside the box but Vigurs' effort was into the wall. Aberdeen continued their dominance and Hutchinson produced a couple of magnificent last gasp tackles to keep us alive. Vigurs, already booked and injured was replaced by Leitch then with 15 minutes remaining McFadden came on for McManus and we engaged attack mode.
Suddenly Aberdeen started to linger when they had the opportunity and it seemed like a 0-0 was certain when the fourth official signalled only one extra minute. We won a free kick around halfway and the ball was hoofed into the box by Lasley. Sutton got his body in the way of Langfield, the ball bounce up against the bae and Kerr's attempt was blocked on the loine. Reid was on hand to send the ball into the net and spark delirium.
Moments later the final whistle sounded and the team rushed to the travelling fans for a long and wonderful joyous fifteen minutes of singing, dancing and general merriment as the realisation sunk in that we has retained our runners up label for a second consecutive season.
It was a terrific end to the season and the players have earned the extra break that comes with the later start to the Europa League. Brilliant!
Aberdeen 0 Motherwell 1
Attendance 17,016
Team: Hollis, Reid, Hammell, Hutchinson, McManus(McFadden), Sutton, Vigurs(Leitch), Lasley, Francis-Angol, Kerr, Ainsworth(Anier)
Have your say on the messageboard.