The great derby fizzled out without a goal as Motherwell and Hamilton battled under the Fir Park floodlights. The home side were the more aggressive but stout defence from the visitors held firm.
Louis Moult was unable to play and Jacob Blyth stepped in. With Bowman also in the starting eleven it was no surprise that our plan was to look for an advantage in the air. The result was that the ball spent little time on the ground.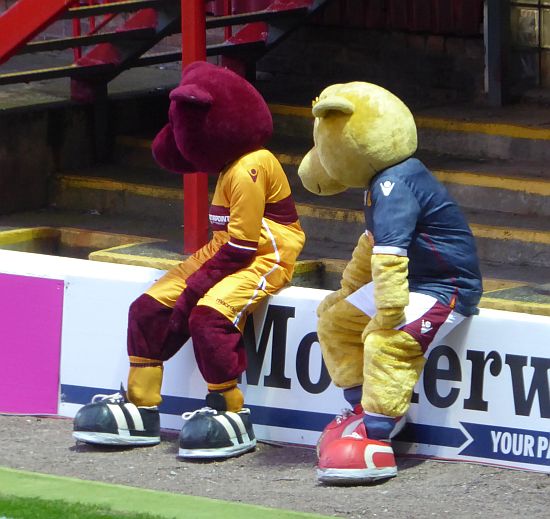 Claret and Amber look on
We camped in the Accies' half for the opening 20 minutes and it seemed inevitable that we would get the reward. Cadden made repeated runs down the right wing and delivered some tempting crosses. We had a handful of corner kicks and made the best of our height in the centre. McDonald then Bowman forced Matthews to save and Pearson joined in with a shot off target from the edge of the box.
Hamilton were rare visitors to the Cooper end but they did force Samson into a couple of impressive saves before the break.
On the half how it appeared that we had broken the deadlock when a header from Heneghan was bulleted to the goal. D'Acol headed clear but reports suggested that the ball had crossed the line. Oh for goal line technology!
The second half began with a more positive approach from the visitors and Robinson substituted Clay with Lasley in 54 minutes. The game turned again and we resumed the targeting of the twin strikers. Frear was hauled down by Skondras at the cost of a yellow but the winger was soon in the box firing inches wide.
Shea Gordon made his first team debut was he replaced Blyth then Ainsworth came on for Ainsworth.
The referee was quick to stop the game when Bowman went down with a head knock close in front of the Hunter Stand. There was a shock when he got to his feet as the referee, after a word from his assistant, showed a straight red to MacKinnon. It seems that he showed the v-sign to the 'Well crowd.
We had 15 minutes to defeat the ten men but lacked the guile to break the defence. It was a better point for the away team.
Motherwell 0 Hamilton 0
Attendance 4,644
Team: Samson, Hammell, Heneghan, McHugh, Blyth (Gordon 62), Bowman, Cadden, frear (Ainsworth 71), Clay (Lasley (54), McDonald, Pearson