Motherwell gave Accies a goal of a start before going on to win 2-1 with goals from Rose and Hartley. A move to fourth in the table is the perfect preparation for Hampden next week.
There was no surprise in the Motherwell line-up. Rose stated as Tanner moved to the bench. The Accies had to dig deep into their reserves with half a dozen regulars unavailable. The home team won the toss and foced a change of ends before Craig Thomson got the game underway.
We dominated the early stages. Fulton had a good save from Tait before we piled in a series of corners and forced several goal-line clearances but it was Skondras who opened the scoring with a powerful drive on the line of the angle of the six yard box that gave Carson no chance.
Bingham had a chance to extend the home lead but Carson was up to the shot.
The game returned to its familiar pattern as Motherwell pressed in front of their travelling fans. Moult made the wrong choice while on a break on the left side of the box and shot when Rose was available fire on his right. McHugh's header from Cadden's corner whistled over the bar. But our number 15 was to get a chance two minutes later when a slip by Skondras set up a chance. The ball came to Rose our man steadied himself before firing to the 'keeper's right.
Motherwell had taken 8 corners in the first half without reward but five minutes into the second we took the lead from a Cadden free kick on the bye-line. The award came following a scramble deep on the right and the delivery found Hartley free at the far post. He hooked the ball into the net and celebrated in front of the vacant area of the ground. Meanwhile there were 2,138 'Well fans cheering their heads off at the other end.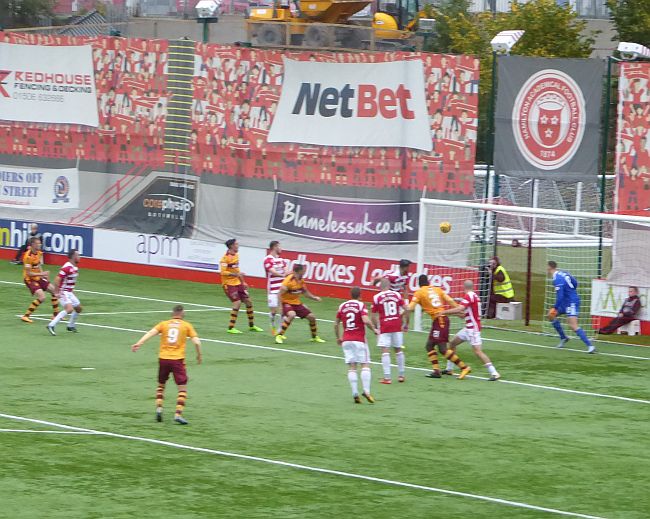 Hartley scores!
A scrappy period followed with few passes and lots of punts from both sides. The surface had players nervous about their touch. Accies made a couple of substitutions and we replaced Cadden with Frear with 15 minutes remaining.
McHugh came within inches when his header came off the underside of the bar. The referee was unmoved.
A huge sigh of relief came for the Motherwell end when Boyd fluffed an excellent opportunity on the six yard line. Our later changes, Bigirimana for Rose and Tanner for Moult rounded off proceedings though Bowman missed a sitter in added time. The claret and amber chior was in full swing at the final whistle.
It was not a pretty game but the three points were exactly what we needed ahead of next week's trip to Hampden.
Hamilton 1 Motherwell 2
Attendance 3,869 (2,138)
Team: Carson, Tait, Hartley Cadden (Frear 73), McHugh, Moult (Tanner 86), Bowman, Campbell, Kipre, Dunne, Rose (Bigirimana 81)