Motherwell and Livingston delivered an end of season farewell packed with incident and goals. First half strikes from Liam Donnelly and David Turnbull seemed to have the game wrapped up but a late fightback had us happy to escape with a 3-2 win.
It was encouraging to see that the club's offer of free entry for kids was rewarded with a few thousand young voices in the South Stand but this next generation of Motherwell fans was given a glimpse of the frustrations that come with a claret and amber scarf. A game that should have been well won after half an hour ended with us hanging on to a one goal margin.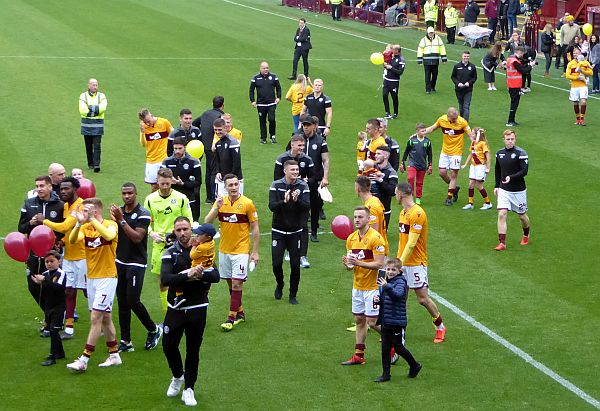 Stephen Robinson choose Liam Donnelly as the holding midfield player with Carl McHugh on the bench but he stuck to his promise of introducing a few new faces as 18 year old Dean Cornelius and 17 year old David Devine were given debuts in the second half.
We were presented with a breathless first forty-five minutes. The scoring stared when Turnbull's diagonal free kick into the box was flicked into the net by Donnelly after ten minutes. Next came a corner from Gboly Ariyibi. In a rehearsed move James Scott dummied the short pass to present Turnbull with a clear shot that was well taken.
Within a minute Ariyibi was fouled by the 'keeper Stewart and we had a penalty. Turnbull sent it low to the centre of goal and we were three up with a quarter of the game gone.
Livingston looked shell shocked and must have believed their luck was out when Hardie failed to convert from a couple of yards as Gillespie blocked with a foot. Next, Tom Aldred needlessly fouled Lamie and the second penaty of the afternoon was awarded. Hardie shot to Gillespie's right but our man pushed it to safety. That was his fourth penalty save of the season.
Incredibly, was had another penalty within 30 seconds but Turnbull's weak effort allowed Stewart to deny him a hat-trick.
The second period had the visitors more involved in attack but we seemed to be untroubled until Tiffoney scored what seemed to be a consolation with ten minutes to play. Two minutes later he scored again. Suddenly the contest was back on and we had to face a nervous spell before the final whistle.
The players and backroom staff took their traditional lap of honour to generous applause. Thanks for your efforts!
Motherwell 3 Livingston 2
Attendance 5,794 (235)
Team: Gillespie Tait (Cornelius 76), Aldred, Cadden, Campbell, Ariyibi (McHugh 87), Grimshaw, Dunne (Devine 62) Donnelly, Turnbull, Scott
Saturday 18 May 2019