Motherwell exited the League Cup 2-1 at home to Hearts on Friday with a dismal performance which gives grave cause for concern about the season ahead.
Substitute Chris Long scored on the hour but Michael Smith's brilliant 39th minute strike and Conor Washington's penalty in first half injury time had left us a mountain to climb.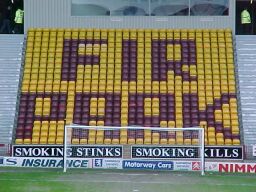 Exiting to a Premier League side, even one going through a slump like Hearts, can often be excused but the nature of the display has left manager Stephen Robinson with questions to answer.
Motherwell had a let-off when Charles Dunne's early handball in the box wasn't punished by Sean Clare hitting his penalty off the post.
Hearts dominated but made only half chances before we finally had a sight of goal. James Scott, in for Long as the only change which lost to Celtic, hit the byline but Jermaine Hylton's shot was weak and Sherwin Seedorf couldn't bundle the rebound over the line.
It was at least a rare positive moment for the wing pair who offered very little even on the rare occasions we could get them the ball.
Hearts remained the more dangerous on the break and went in front when Richard Tait, left exposed by Hylton, drifted infield to leave Smith in space. The full back cut inside and fired a tremendous shot inside the far post.
Television replays showed Washington handled in the build-up and the goal shouldn't have stood but that's little consolation.
Moments later we found ourselves two down when Liam Polworth's sloppy control created another break, Mark Gillespie charged out and needlessly brought down Jake Mulraney. Washington did not repeat Clare's error.
Hylton and Scott were yanked at the break for Long and Devante Cole; they could feel hard done by only due to the number of other candidates for the chop.
Even the expected huff and puff in search of a way back into the game failed to materialise and it was Hearts, taking advantage of our basic errors, who were the more threatening.
Out of nowhere, Long superbly chased back to win the ball for Polworth who calmly split the defence for the forward to finish well. It was a moment of genuine quality in stark contrast to the rest of our effort.
Hearts could have been shaken given their form but instead looked comfortable. Their control and passing, even on a pitch soaked by torrential rain, was a level – at least - above ours.
Christian Ilic came on for Allan Campbell, our only player worth pass marks, for the closing stages but it was a futile gamble.
Any forward momentum from last season and our impressive League Cup group phase is gone and we face a massive game at Hamilton next week. Declan Gallagher is the only new signing who looks completely satisfactory, a shocking return from nine arrivals, and the imbalance in the squad is alarming.
Robinson and those in the football department have serious work to do and little time to do it.
Motherwell 1 Hearts 2
Attendance: 5,597 (1,782)
Team: Gillespie, Tait, Gallagher, Dunne, Grimshaw, Donnelly, Campbell (Ilic 78), Polworth, Hylton (Long 45), Scott Cole 45), Seedorf