Surprise, surprise; Motherwell were unable to hold on to a winning lead and conceded a late equaliser to Ross County in foul conditions at Fir Park.
This season's continual failing will have Stevie Hammell tearing his hair out at the inept defending on show week after week. In a game that was ruined as a spectacle by the horrendous winter storm that battered Fir Park Stuart McKinstry produced a fine low drive to give Motherwell the lead with twenty minutes remaining. A defensive lapse gave Jordy Hiwula, fresh off the bench, a chance to beat Liam Kelly and two points promptly disappeared.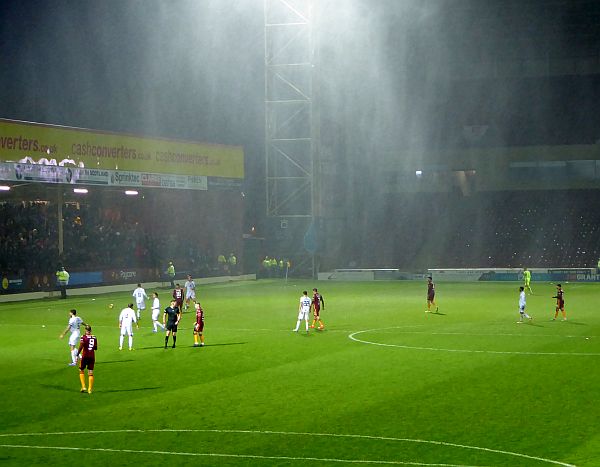 Wet, wet, wet
It was a poor error strewn game in almost impossible conditions but the visitors had the better of it for most of the afternoon. Max Johnston started at left back and Paul McGinn sat in front of the back four. Kevin van Veen had McKinstry and Blair Spittal for company in the forward area with new signing Olly Crankshaw pushing up on the right flank.
Ross County had the advantage of the wind at the start and they had plenty of the ball in the home third but the first chance fell to McKinstry. His effort from the left seemed to clip the far post with Laidlaw beaten. The loanee followed that up with a shot from closer range and the 'keeper was happy to concede a corner. Johnston had a powerful shot just before the break but the teams retreated to the comfort of the dressing rooms with the game goalless.
The game was littered with physical clashes as the ball was whipped by the gale and Kelly had to produce a couple of fine saves in front of the 102 travelling fans.
A goal in front of the Cooper stand lifted the home crowd. Van Veen played in McKinstry at the edge of the box and the low drive to Laidlaw's right was powerful enough to beat the touch of the gloved hand. Three points were in sight.
There had been no real threat from the visitors despite their energetic attempts to crowd on Kelly's goal but they got a reward with the help of a static defence. Hiwala was introduced at the halfway line and the game resumed. A long upfireld ball was headed on by White and the substitute found himself in front of Kelly. With his first touch he scored.
It was an all too familiar trudge to the exits for home fans long deprived of a win. Results elsewhere did not worsen the precarious league position but that will be of little consolation.
Motherwell 1 Ross County 1
Attendance 4,574 (102)
Team: Kelly, Johnston, Solholm, McGinn, Lamie, Penney, Goss (Tierney 65), Spittal (Mandron 75), McKinstry, Crankshaw (Maguire 75) van Veen
Saturday 14 January 2023
Motherwell Fixtures and Reports