Motherwell are out of the League Cup. We were unable to score against an excellent Aberdeen defence despite a man advantage for 77 minutes. Two late goals sealed our fate.
Anier and Francis -Angol returned to the starting eleven as McHugh and Vigurs made way. Almost 7,000 were in their places with 2,600 in the South Stand. The visitors had an excellent view of Sutton putting the ball into the net after two minutes but the referee cancelled it, mistakenly judging that our man was offside.
That decision was to haunt McCall as he said he'd never felt so low as when he watched the replay after the match. But to cling to that early decision given our inability to test Langfied despite our overwhelming possession was to clutch a straw.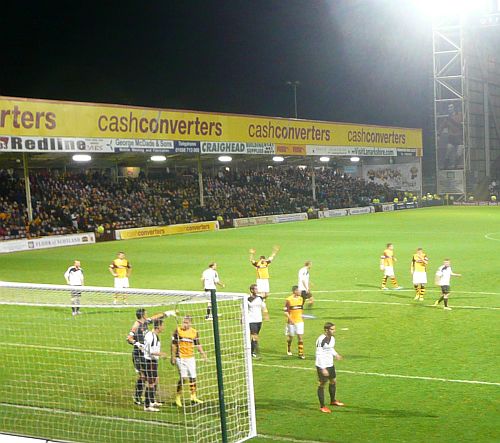 We dominated the early stage of the game and when Shaughnessy's mad challenge on Francis-Angol reduced the visitors to ten men few in the ground suspected what would unfold.
McInness withdrew Zola and added Considine to beef up the back line and together with Anderson and Reynolds they gave a master class in defending. We were reduced to long range efforts (6 wild attempts before the break) and were unable to work the ball through the centre.
The best chances in the first half came to Aberdeen late on when Neilson dropped a low cross and McGinn's feet causing a goal line clearance and the Dons lifted their spirits by adding a of late corners just before the whistle.
Ainsworth replaced Lawson for the restart and with wingers on each side we were able to deliver lots of crosses into the area. Again we saw the dominance of their central defenders. Anier was replaced by McHugh with over 20 minutes remaining and we managed a couple of good chances. Ainsworth's cross field ball found Francis-Angol and an excellent pass set up Carswell from 15 yards but Langfield was up to the task.
Hutchinson contributed a powerful header that beat the 'eeper but struch the junction of post and bar. Time was running out and extra time started to loom large. McFadden was warming up - would he be able to deliver the magic we needed so badly? Alas, no.
Inside the final 10 minutes we conceded a corner in one of the very rare Aberdeen attacks and Considine rose above the rest to head home. The big travelling support fond their voice and we feared the worse. There were frantic attempts to push forward but no equaliser. Into added time and we lost a second to a fine breakaway. Hayes deliver the coup de grace with a shot that found the roof of the net.
A bad night - certainly. A look at the semi final draw will only add to the pain. Somehow, we'll have to pick up the pieces for the visit of Hibs on Sunday.
Wednesday 30 October 2013
Motherwell 0 Aberdeen 2
Team: Neilson, Hammell, Ramsden, Hutchinson, McManus, Lawson (Ainsworth 45), Sutton, Lasley, Francis-Angol, Anier (McHugh 67)