Motherwell were the architects of their own downfall as they gifted Aberdeen a couple of first half goals. The visitors ran our 3-1 winners on a wet and windy night at Fir Park.
The manager was unable to hide his frustration as he spoke after the match about the ridiculous defending that presented Aberdeen with a half time lead that they hardly deserved.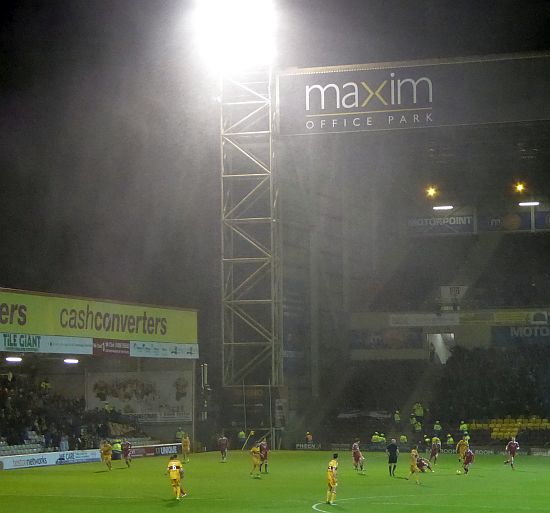 Wet 'n Wild
We started well and inside the first minute Moult's cross was headed wide by Clay at the far post. There was purpose and drive in our play and Aberdeen found it hard to find any rhythm.
In six minutes we delivered Christmas gift number one. Samson, last week's hero in Perth, offered Heneghan a poor ball that had the defender under some pressure at the touchline. He tried to punt forward but a block laid the ball with Hayes and the winger had time to roll a pass to the unmarked Shinnie at the edge of the box. The invitation was not wasted and we were a goal down.
That did not alter the flow. We tormented the Dons' defence with a couple of dangerous corners and with 15 minutes gone we scored a marvellous equaliser. McDonald produced an acrobatic overhead kick that flew in off the bar. At that stage it seemed that we would press home our advantage. Alas, no.
Samson spilled a bread and butter shot and gave Rooney an opportunity. The striker tempted the 'keeper and made the most of an outstretched arm to convince the referee to award a penalty. Despite saving the spot kick we were behind 2-1 when Rooney reacted first.
The game continued to entertain with fast paced action and when Lasley collided with Reynolds another penalty was given. Moult's shot was saved but we were unable to get the ball into the net in the ensuing scramble.
We were lucky not to fall further behind just before the break. Both of Taylor's headers were fine chances.
Lasley was replaced by Thomas when the second half began but the change seemed to knock us off stride. Aberdeen commanded the second period and we chased shadows for long spells. We failed to press and they were happy to keep possession. Both Moult and Considine saw headed attempts hit the woodwork but the visitors looked the more likely to score.
The third goal was another self inflicted wound in the 90th minute. Tait chased a ball to the touchline and kept it in as a gift for Hayes who needed no second invitation to exploit the space in front of our goal. Seconds last he picked out McGinn and the final goal sealed our 3-1 defeat.
Our next game at Fir Park is at the end of January when we face Rangers. Let's hope that the Christmas spirit of giving has long passed and that we concentrate of scoring goals for the home team.
Motherwell 1 Aberdeen 3
Attendance 3,428 (764)
Team: Samson, Tait, Hammell, Heneghan, McManus (Bowman 85), Moult, Cadden (Ainsworth 70), Lasley (Thomas 45), Lucas, Clay, McDonald