Failure to make the best of first half domination ultimately led to Motherwell losing to Dundee at Fir Park by 3-2. We drop into the play-off place and face a nervous end to the season.
It has been said often enough that when a team is in desperate need of a result Motherwell will accommodate. Dundee had suffered seven straight losses but that ended when we were unable to convert possession into chances.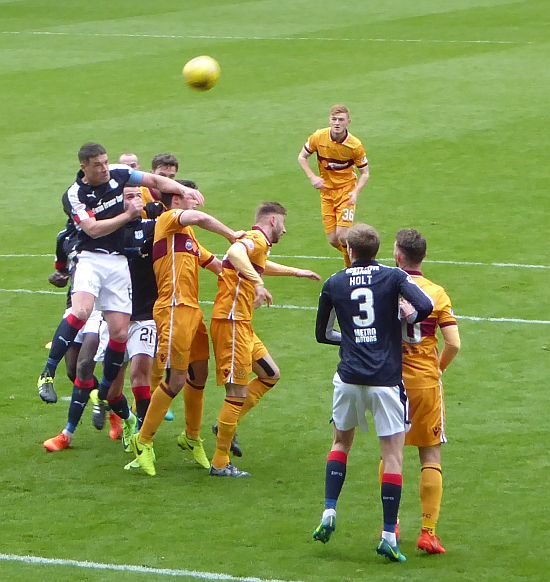 For most of the first half Dundee had all eleven players defending. Our plan was to feed Frear on the left and work around the ranks of blue shirts that lined the penalty area. He delivered lots of balls into the box but little came from them.
We had to wait half an hour for a shot on target when Moult engineered an effort that was easily saved by Bain. Cadden followed that up with a long range cross that would have found the top corner but the 'keeper tipped the ball over for a corner.
It looked like Samson might have enjoyed the easiest 45 minutes of the season as the stadium clocked clicked on to 44 minutes. Here seemed to be no danger when Dundee produced their first attack. Haber's touch was almost in the hands of the 'Well 'keeper but he failed to lift and the ball squirmed loose for O'Hara to take the easy finish. Unbelievably we were a goal down at the break.
In fairness to the visitors they stepped up the pace in the second half. Their reward was to come as Haber got on the end of Holt's ball for a shock second.
That was the cue for Motherwell to inject some urgency and it came when Moult lashed the ball high into the net following a corner. Hopes of a recovery were dashed when an O'Hara header was touched by Haber, 3-1.
Ainsworth replaced Bowman and we pushed to get back into contention. A great chance fell to Frear, eight yards out, but his shot was too close to Bain. The changes continued with Lasley and then McDonald replaced by Gordon and Clay.
An Ainsworth corner set up a Heneghan header in 76 minutes. The powerful downward strike appeared to have crossed the line before Hateley cleared. There was a big cheer from Motherwell fans and appeals from our players but the officials were not convinced. Was that the third time this season that we have been denied a legitimate goal?
Cadden got us to 2-3 when when he stretched at the far post to slide the ball over the line but Dundee held out for the final 10 minutes.
It was a hugely disappointing day for Motherwell fans and it raises the pressure for next week's visit of Ross County.
Motherwell 2 Dundee 3
Attendance 4,919 (1,259)
Team: Samson, Hammell, Heneghan, McHugh, Moult, Bowman (Ainsworth 56), Cadden, Lasley (Gordon 69), Frear, Campbell, McDonald (Clay 73)