Motherwell suffered a historic costly and embarrassing defeat to Albion Rovers in the 4th round of the Scottish Cup at New Douglas Park in Hamilton. The wee Rovers defended stoutly and stole the game with a 90th minute goal.
As expected we mixed up the pack and fielded four changes from the eleven that started against Kilmarnock last week. Lasley, Vigurs, Sutton and Moore dropped out in favour of Hammell, Carswell, McHugh and Anier. Motherwell seemed to be unaware that seven substitutes could be listed and named only five while the 'home' side had the full complement.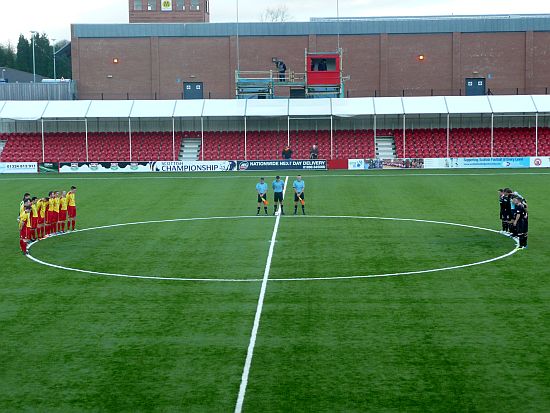 A moment's reflection before kick off
We kicked off and attacked the Spice of Life stand end. It disappeared in a haze of yellow smoke for much of the opening fifteen minutes and in that time most of the action took place in that third of the pitch. The Rovers defence restricted our goal attempts to a few off target efforts.
Kerr on the right and Francis-Angol on the left provided our main route into the opposition box but there were no takers for their offerings. Rovers were not content to pack their area and they had a couple of chances in the first half. Cusack let loose a 25 yard rocket that forced Nielsen to tip over the bar then Dallas had only to hit the target from the penalty spot when he connected with a Phillips cross but he fluffed over the bar.
McCall's half time talk included a switch of strikers and Sutton started the second period as McHugh had an early shower. He had a speculative blast after ten minutes but the Rovers 'keeper watched it sail harmlessly over the bar (as he had with many of Motherwell's efforts). Time after time we were faced with an eleven man defence packed into the last third and we could find no way through or around.
With twenty minutes remaining Francis-Angol and McFadden were substituted as Lasley and Jack Leitch were given a chance to make a breakthrough but Rovers had the 2600 Motherwell fans showing frustration when McGuigan left Hammell in his wake before firing just wide.
Sutton had a powerful close range header saved by Parry as the pressure mounted on the Albion goal but as the final minutes arrived the unthinkable happened. After a spell of pressure at the edge of the Motherwell box Phillips got a shot away from 17 yards. Nielsen got a low hand to the ball but it hit the net and sent the Rovers fans wild.
A desperate three added minutes followed but the only chance was an Anier shot well wide. The post mortem from this horror defeat will not be pleasant!
Scottish Cup Round 4 at New Douglas Park
Albion Rovers 1 Motherwell 0
The Guilty Men: Nielsen, Hammell, Hutchinson, Kerr, McFadden (Leitch 71), Carswell, Lawson, Francis-Angol(Lasley 71), McHugh(Sutton 45), Anier
30 November 2013