A Ryan Bowman header and a 19th clean sheet delivered a 1-0 win for Motherwell at Firhill. We withstood Partick Thistle's first half enthusiasm and took control in the second.
Motherwell applied themselves with a determined display that had been missing in the last outing and probably derserved to leave Maryhll with three points. We retain seventh spot with only the Accies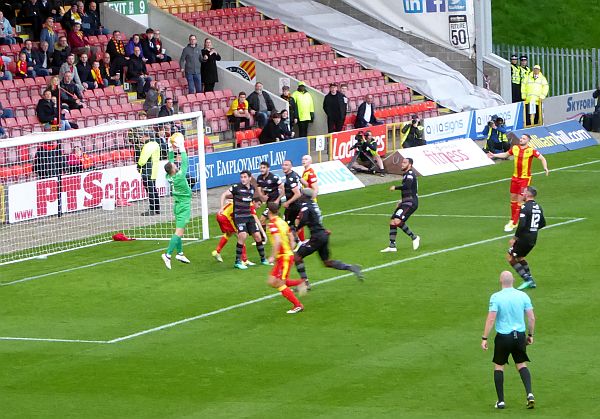 Another clean sheet for Carson
Stephen Robinson continued his shuffling of the Motherwell pack and made four chances from Saturday's starting line-up. Out went Maguire, Ciftci, Frear and Grimshaw and the fresh legs of Hendrie, Kipre, Turnbull and Bowman were given a run. It was Turnbull's first league appearance.
Firhill was bathed in sunshine as we kicked off in the away strip for the third game in a row. Thistle showed their desire from the off and we were fortunate not to concede inside the first minute. Doollan crossed from the dead ball line and Sammon's glancing header flashed by the far post.
We were unable to stem the flow as the red and yellow shirts flooded into our box. Carson made the first a a few fine saves when he blockedEdward's header.
We managed to break out a few times and managed four corners in as many minutes but there was no hint of a goal coming our way.
The traveling fans cheered as Bigirimana was called in early from his half time warm-up and he replaced Hendrie. The change was effective and Bigi seemed to claim the freedom of the right wing as we began to impose ourselves on the game.
The substitute combined well with Cadden on the hour and we gained a free kick close ti the angle of the 18 yard box on the right. Turnbull whipped in a tempting cross and Bowman rose to head beyond Cerny.
Frear came on as Main was rested but there was a scare when Kipre needed a spell of treatment. The big defender eventually got to his feet to a rousing chorus from the 423 'Well fans.
Thistle seemed to lose composure as they frittered attacking opportunities to litte effect.
Turnbull can be pleased with his 82 minutes. He looked composed, comfortable on the ball and can claim the goal assist.
A fine last gasp effort from Aldred robbed Sammon of a goal at the end of the 5 additional minutes and the team were able to celebrate a confidence boosting win.
Results elsewhere have taken the pressure off of Hamilton and we will end the league campaign witha Lanarkshire derby with lttle at stake bar pride.
Partick Thistle 0 Motherwell 1
Attendance 3,320 (423)
Team: Carson, Hendrie(Bigirimana 45), Cadden, McHugh, Main(Frear), Bowman, Dunne, Aldred, Kipre, Campbell, Turnbull(Ciftci 82)
8 May 2018