Motherwell huffed and puffed their way to the top of Betfred Group G as they struggled to a 3-1 win over a Clyde side that will consider themselves unlucky to take nothing from the game.
It was a poor showing from the 'big' team and we trailed for most of the afternoon. Clyde stuck to their task and defended their early lead. We demonstrated little guile in the attempts to find a way to goal.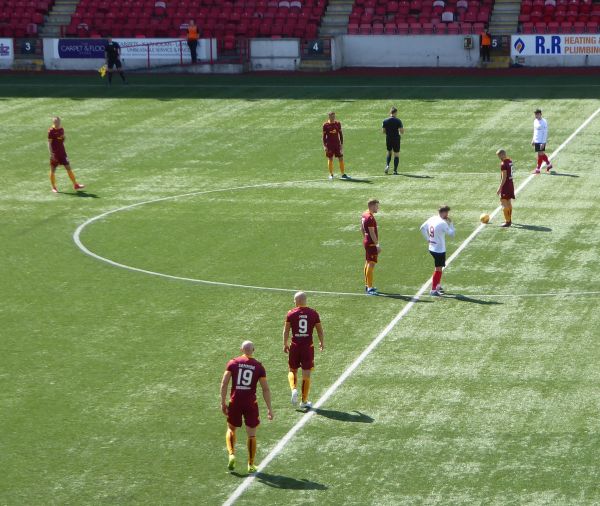 The claret away strip got another outing as Campbell got the game underway. Both sets of fans were housed in the main stand to give the stadium a lopsided appearance.
For the most part we camped in the Clyde half but found it difficult to make progress through the white shirted defence. Main and Rose had speculative efforts sail high over the bar before Frear tested Hughes with a decent effort in 13 minutes.
McHugh crumpled following a tangle with Carson at the edge of our box and within minutes he had to be replaced by Donnelly.
We lost the opener on the half hour with Clyde's first attempt on goal. Goodwllie beat the offside trap and with Hartley in attendance he made progress deep on the right side of our penalty area. The striker turned, Hartley slipped, and the ball was calmly placed beyond Carson.
Gorrin came on after the break then Johnson was added on the hour as Campbell and Tait made way. Our laboured attack made little progress and Goodwillie almost scored the second in 62 minutes but there was releif as his curler across the goal went wide.
Time and time again we would play the ball square in front of the Clyde defence then launch the ball forward. Occasional crosses provided only comfortable clearances.
75 minutes had passed and we had recorded only one shot on target but then something wonderful happened.
Johnson attempted a hook on the dead ball line but missed the ball and we had a corner. Rose helped the ball high into the six yard box and it ended up in the net as both defeners and attackers failed to get a touch as they rose on the goal line. Main later claimed the goal. Two minutes later Johnson smashed the ball into the net and remarkably we were in the lead.
In added tme Frear delivered a fine cross and Sammon rose to head in off the post. The 3-1 scoreline flattered us but that will not matter when the knockout draw is made.
Clyde 1 Motherwell 3
Attendance 1,620
Team: Carson, Tait (Johnson 60), Hartley, McHugh (Donnelly 19), Campbell (Gorrin 45), Rose, Cadden, Main, Kipré, Sammon, Frear
Saturday 28 July 2018