At the end of a brave defensive 90 minutes Motherwell conceded and Aberdeen scored the only goal at Pittodrie. It was a hugely improved showing from the Steelmen and though they never looked like winning it was a cruel loss.
We lined up in the rarely seen blue away strip and defended the kick off. Injuries and a suspension forced interim manager Robinson to make three changes from the eleven that took the points at Rugby Park last week. Moult, Lasley and Tait were replaced by Clay, Bowman and Ferguson.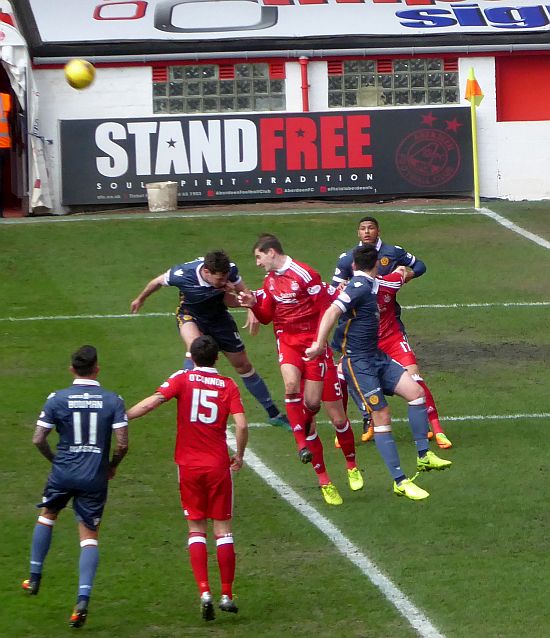 Spot the ball
Samson and his defenders were the stars as they repulsed the growing threat offered by Aberdeen. Our 'keeper was at full stretch as he tipped Rooney's close range effort over the bar. Next came a fizzer from McGinn from outside the box and it was dealt with in the same way.
Heneghan managed to get booked for returning to the pitch without permission much to his frustration and Bowman joined him in the book for a clumsy tackle. We had our moments with a couple of corners and a cut back from McDonald but Lewis had little to do. The break offered some relief.
Aberdeen's domination grew in the second hallf but so did the defensive determination to keep them out. Heneghan's heavily bandaged head cleared countless crossed balls and Ferguson, at right back, can be well pleased with his contribution.
An indication of the pressure we were under can be seen by the second half bookings to Pearson, Hammell, Ferguson and Cadden.
Samson had the low sun in his eyes during his spell at the beach end but coped well with all that was thrown in his direction. Ferguson and Stockley clashed heads inside the last ten minutes and that resulted in the fourth official indication an additional 5 minutes.
Hayes sent a low ball into the box from the left wing and McGinn found tht he had space and time to place an effort to Samson's left hand corner. Game over.
The travelling Motherwell support applauded the team for their dedication to the cause. The showing will have done Robinson's chances of a successful interview no harm.

Aberdeen 1 Motherwell 0
Attendance 12,524
Team: Samson, Hammell (Frear 75), Heneghan, McHugh, Bowman (Blyth), Cadden, Clay, Jules, Ferguson, McDonald, Pearson