A hard fought and deserved win at Rugby Park gave Motherwell a opening three points to the new season. Goals from Ainsworth and Johnson set up the victory although a late concession caused some concern.
Kilmarnock offered little in attack untill the final fifteen minutes but by then the game should have been out of their reach. An Ainsworth lob in the first half was followed by a Johnson header seconds into the second period. We should have extended the lead but instead almost paid a late price.
McHugh replaced the suspended captain and McManus wore the armband as Kilmarnock kicked off facing the 'Well support in the upper reaches of the stand.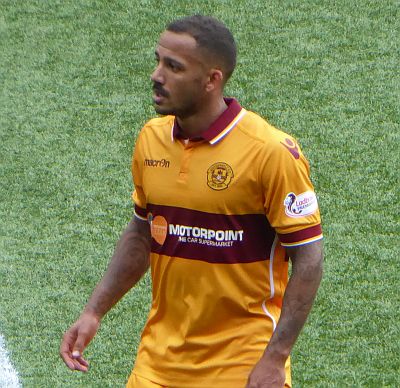 Ainsworth scored the first goal of the season
Most of the early action took place betweek the two 18 yard lines but with Cadden keen to join Answorth, Johnson and McDonald there was plenty of intent on show.
The Kilmarnock manager lost his composure and was sent to the stand after only 10 minutes when the fourth official had a word with Craig Thomson.
Ainsworth set up our first opportunity when he reached the dead ball line and spotted McDonald unmarked 15 yards out. The pass reached the target but an embarrasing attempt ended the move. Kilmarnock's best chance before the break fell to the their towerng centre-back Addison but his powerful close range header flew high.
We took the lead after 39 minutes when McDonald released Ainsworth. He outpaced his marker and MacDonald advanced from his goal to met the threat. Ainsworth chipped and after a second in the air the ball nestled in the net. Cue a chorus or two of Twist and Shout.
We caught Killie cold immediately after the break. Cadden delivered a fine cross from the right and found Johnson, the only 'Well player in the box. His header flew into the net. 2-0.
The game then stuttered along as a host of collisions and injuries kept the medics busy and the temperature high in the stands. Answorth had a golden chance in 67 minutes. The bal fell to him inside the 6 yard box with only the 'keeper for company. No flag was shown but no shot was offered when the simplest of touches would have done the trick.
Johnson raced in on the counter but only a corner followed. Kilmarnok scored in 82 minutes when Smith glanced a header beyond Samson and with their tails up we were forced into some desperate defending.
MacLean replaced Ainsworth with 87minutes on the clock and there were a few nervous glances as the fourth official indicated an additional six minutes but we held on to celebrate a winning start to the season.

Kilmarnock 1 Motherwell 2
Attendance 4,308 (973)
Team: Samson, Tait, Hammell, Hemeghan, McManus, Ainsworth (MacLean87), McHugh (Chalmers 55), Johnson, Cadden, Clay, McDonald