Motherwell finally ran out of gas as they lost 0-1 to Hibs at Fir Park. The visitors were gifted their goal and had the better of the first half. Robinson shuffled the team at the break but no equaliser was forthcoming.
Cadden, Moult, Rose and Campbell returned to the starting eleven as Tait, Bigirimana, Fisher and Tanner moved to the bench. After a wholehearted minute's applause to mark the passing of John Swinburne we got the game underway and attacked the South Stand end.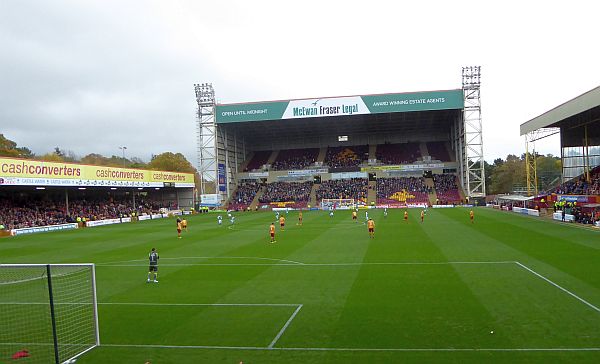 Motherwell started brightly with Cadden powering down the right wing to deliver a cross inside the opening minute but the early promise soon disappeared as Hibs took control.
There was a big contrast in styles evident. Motherwell concentrated on firing up the park to Bowman and Moult but the ball failed to stick. Hibs looked comfortable in possession and passed their way into attack.
Boyle will rarely score an easier goal than that which was presented to him just before the half hour. Kipré failed to make contact with a high ball at the edge of the area, Boyle got a touch away from the onrushing Carson and walked the ball into the empty net.
Our only slight chance of scoring before half-time came from a long range curler when Campbell let loose but the ball missed the target.
That a change was needed was obvious and the manager reacted. Within ten minutes of the restart we had committed all three substitutes. Bigirimana, Tanner and Petravicius replaced Frear, McHugh and Rose.
We picked up the pace and produced a better contest although scoring chances were rare. It was hardly surprising that we were off pace. Moult and Bowman were well marshalled and neither sniffed a chance.
Tanner came close when he whipped a free kick across the face of goal from wide on the right but the best chance was soon to come. Bigirimana delivered a great ball to release Cadden deep on the right wing. The cross was perfect and Petravicius met it close in at the far post. The Cooper crowd were on their feet expecting to see the ball in the net but Marciano got his body in place to block the shot. There was to be no debut goal.
Motherwell were off pace and Hibs played the better football so we can't complain at the result. Nevertheless it has been a good week for Robinson's men.
Motherwell 0 Hibs 1
Attendance 6,043 (1,724)
Team: Carson, Hartley, Cadden, McHugh (Tanner 45), Moult, Frear (Bigirimana 45), Bowman, Rose (Petravicius 55), Dunne, Kipré, Campbell