A poor Motherwell side lost to Aberdeen and confirmed a place in the bottom half of the table when the league splits. Two second half goals in as many minutes ended the contest on a cold wet night at Fir Park.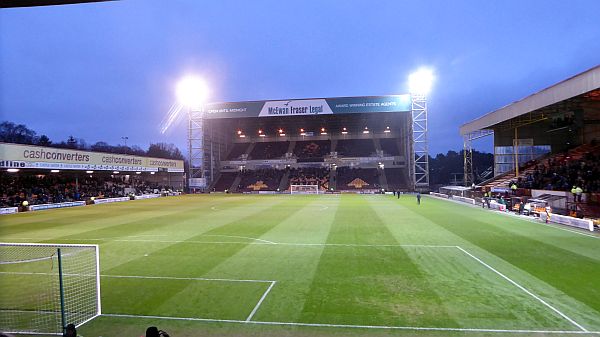 Pitch in great shape despite the deluge
One indication of our performance was the noticeable absence of the usual late announcement of a Man of the Match award. It was a wise choice either by the sponsors or Yir Elder on the microphone.
Dunne failed to appear and Hendrie was given a rare start. As a result we set up with four at the back and they were soon tested. McInness had altered his team to add more height in defence and the tactic worked. We were unable to make any progress up the park and the few balls sent in the direction of Main and Bowman were soon returned as the blue clad visitors camped in the Cooper half of the pitch.
We managed to survive the first half without loss though Stewart and McLean had scoring chances. Motherwell were missing as an attacking force and it was no surprise to see a half-time substitution.
Bigirimana replaced Campbell and we enjoyed our best, short lived, spell of the match. We completed a few passes and lifted the home crowd with a couple of goal attempts. Aldred headed Cadden's corner narrowly wide and Main won a shoulder bump to let loose a rare shot at Lewis.
The revival was soon ended. Aberdeen scored in the 65th and 68th minutes to end our slim hope of a point. Arnason headed McLean's corner home then McLean beat Carson with a low effort to the 'keeper's right.
We stuck to the task but never looked like scoring. After the last couple of strong home performances this was a poor, poor showing.
Motherwell 0 Aberdeen 2
Attendance 4,127
Team: Carson, Tait, Hendrie, Cadden, McHugh (Newell 78), Campbell (Bigirimana 45), frear (MacLean 63), Main, Bowman
Tuesday 3 April 2018