Stephen McManus scored his first goal for Motherwell and delivered three points to send us back to a share of second place in the table. Hibs dominated the second half but our bruised and battered defence kept them out.
McCall's post match comments included a long list of injuries to key players and an expression of relief that we've ended a horrible week with a win. McFadden and Ainsworth were added to the starting eleven as Francis-Angol and Lawson stood down. Neither was fully fit and their best contribution came in the first half. Ramsden pulled a hamstring after 15 minutes, Hammell suffered a gash at the ankle, Hutchinson struggled and eventually took a red card and Carswell also played while carrying a knock. Next week's team selection could be a challenge!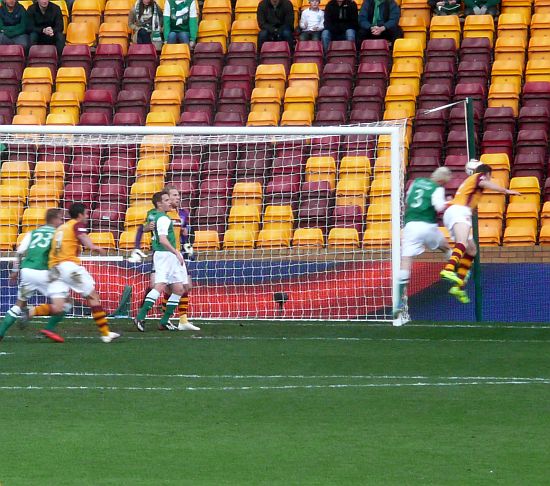 McManus scores his first for Motherwell
Hibs started well and Heffernan had three attempts on target before McManus scored half way through the first period. The centre back got in front of his marker at the front post to head home Ainsworth's corner and the balance of the game turned in our favour.
Motherwell ran the show until the break and we should have killed the game off. Anier had a couple of close calls thwarted by Williams in the South Stand goal; the first was a low drove from the right and the second followed a towering long ball from Neilsen that caused panic in the away penalty area. Sutton came close when a low shot from the left missed the target by inches. We had a fright when Robertson was allowed a 40 yard run through midfield but a brave block stopped the goal threat.
Ainsworth provided much of our attacking flair and his speed on the wing and teasing crosses were worthy of note. McFadden had a few deft touches but it's obvious that he needs more game time to get to peak fitness.
The second half was a disappointing affair. We seemed unable to keep the ball and the visitors took command. Fortunately a combination of stubborn defending and poor finishing saw us survive without loss. Williams was a spectator for most of the half and he remained untested.
Hammell's clearance caught an opposing boot and our man hobbled off to be replaced by Francis-Angol and later Vigurs came on for McFadden. Hutchinson saw red when he pulled Heffernan down inched from the edge of the box and we were relieved to see the resulting free kick strike the wall. Hibs were camped in our half but it was only in the 92nd minute that Neilsen had to save the day. Heffernan let loose from 18 yards but our 'keeper flew to his right to ensure all three points would stay at Fir Park.
We've now won five consecutive home league games and have a chance to extend the run next week when Dundee United visit.
Have your say on the messageboard.