Motherwell struggled to overcome Stranraer and had to settle for a 1-1 draw despite taking a first half lead when Peter Hartley converted Cadden's free kick. Stranraer earned the penalty shootout bonus point.
A much changed Motherwell side lined up as Stranraer kicked off facing the travelling fans. Like the team, many wore the new claret away strip.
The manager's play book had to be altered after 3 minutes when Dunne limped off to be replaced by Rose. The reshuffle placed McHugh between Kipré and Hartley in the back three.
The home side threw up a congested defensive formation consisting of ten players with only Layne left on the halfway line as a token threat.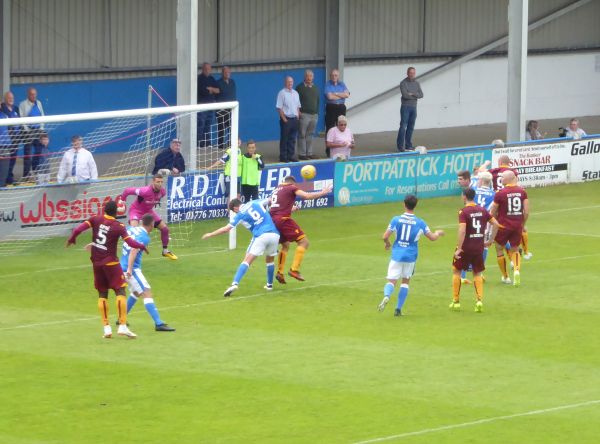 Hartley scores
After half an hour without a shot the crowd were given action at both ends. Main set up Cadden for a shot inside the box. The block sparked a breakaway with Layne charging goalward with Tait in pursuit. The striker got his shot away and Carson did well to protect his goal.
We took the lead in 37 minutes when Hartley met Cadden's dead ball delivery to head beyond Currie and retired for the half-time cuppa in control.
The second almost arriven when Tait delivered a diagonal cross to Rose inside the box. A touch gave Sammon a chance but he hoisted the ball over the 'keeper ..and the bar.
Stranraer fought back and caused panic in our defence with a series of attacks. McGowan failed to score with the goal gaping then we had to scramble clear after a corner. The equaliser followed when Layne collected on the right side of the box. He placed his show beyond Carson for a well deserved goal.
The manager responded to the loss by replacing McHugh with Frear and then Sammon with Bowman. The change almost delivered an instant result aas Frear came close with a flick from 6 yards. The winger then delivered a tempting cross but Bowman's header was easily saved.
Layne continues to cause problems and he set Lamont free. The substitute had the freedom of our box but seemed to hesitate too long before shooting against the bar when a goal seemed inevitable.
The home side had their tails up and we struggled to create scoring chances and had to settle for a draw.
Penalty practice will be high on the agenda following the awful display in the shootout for the bonus point. We scored two of the six penalty attempts and Stranraer were able to celebrate taking two points for their efforts.
Stranraer 1 Motherwell 1
Attendance 885
Team: Carson, Tait, Taylor-Sinclair, McHugh (Frear 63), Kipré, Hartley, Cadden, Main, Grimshaw, Dunne (Rose 3), Sammon (Bowman 68)
Saturday 21 July 2018