Motherwell cruised to a comfortable 3-1 win over a poor Hamilton side in the first Lanarkshire derby of the season. Peter Hartley, Liam Donnelly and Chris Long scored the goals that let us leapfrog our wee neighbours.
Jake Carroll and Richard Tait were laid low with a bug and that led to a Liam Grimshaw, Peter Hartley, Declan Gallagher and Charles Dunne defensive line. Such was the nature of the opposition's attacking prowess that they were rarely tested.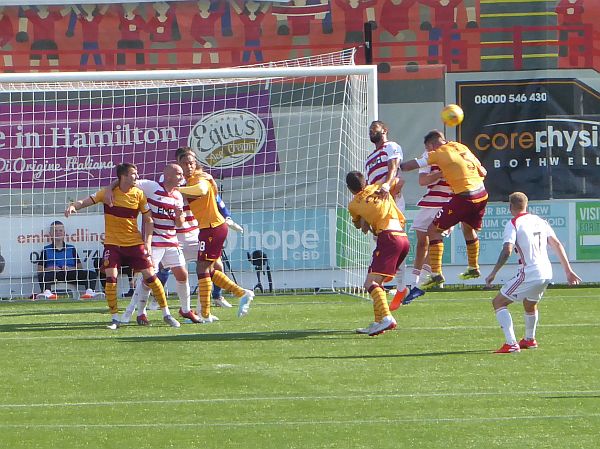 Peter hartley tries for a second goal
Sherwin Seedorf started with James Scott providing excellent service from the other wing. Chris Long made the best of his central role and it was he who produced the killing goal in the second half.
With both teams in their traditional colours we kicked off in the sunshine facing the busy away stand. Hamilton's increased pricing resulted in 1,400 travellers compared to 2,250 on our last visit. Maybe there's a lesson to be learned?
We took control from the kick off with Seedorf first to test Fon Williams following a teasing run through the centre. Our pressure led to a run of corners delivered by Liam Polworth. Hartley rattled the bar with a header before the delivery from the opposite side of the pitch allowed the returning defender to head off his marker to score the opener after 15 minutes.
Two penalties arrived soon after. Jamie Hamilton handled Polworth's header on the line and referee Andrew Dallas had no other option but to show a red card and award a spot kick. Liam Donnelly drove the ball low under the 'keeper to double the lead.
Within a minute penalty number two arrived when Hartley was harshly punished for an inadvertent hand ball. There was no booking but Ross Cunningham gave the ten men some semblance of hope as he scored.
Scott and Long had been practicing a few one-twos in the warm-up and their practice almost delivered before the break but there was to be no more scoring until the second period.
The fourth goal of the afternoon was the best. Long skipped along the 18 yard line before he turned and drilled low to Fon Williams' far post to restore the two goal cushion.
The contest was over and we were able to make good use of the extra space available to retain possession and give Mark Gillespie an easy afternoon.
With three games gone we have four points and the threat of a minor panic averted. With a home fixture against Hibs next we may yet be able to have a happy international break.
Hamilton 1 Motherwell 3
Attendance 2,927 (1,409)
Team: Gillespie, Grimshaw, Gallagher, Hartley, Dunne, Campbell, Donnelly, Polworth (Maguire 88), Seedorf (Hylton 56), Long, Scott (Cole 65)
Saturday 24 August 2019