Hammell returned after injury and Lasley found himself on the bench.As expected McCormack started in place of the suspended Clarkson.Malcolm retained his defensive midfield spot.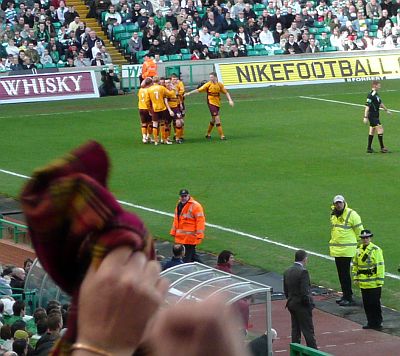 We score!
We were under the cosh for most of the first half but still managed to reach the break one up!


The highlight arrived after a half-hour's pounding when it seemed like half the Celtic team had chances to score the opener.Quinn took a quick free kick, McCormack was involved and Fitzpatrick eventually took possession at the edge of the box.He had to work hard to get an opening but when it came he forced Borac to parry to his right.Lappin pounced and finished with a controlled side foot.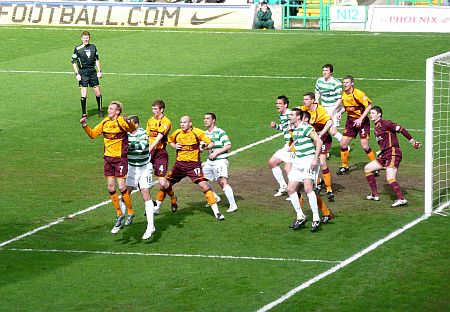 Hughes clears a corner

The balance of possession was almost entirely in favour of the home side.Our contact with the ball tended to be in defensive clearances and we found it very difficult to hold on to the fleeting opportunities for possession.


We tried to take the game to Celtic after the restart and McCormack delivered a couple of crosses.The second was met by a hopeful Lappin volley which soared high into the net.Five minutes into the second half saw us reduced to ten men when Malcolm was given a straight red for a tackle which sent Donnatti spinning. At first sight it looked like a harsh decision and the referee, Calum Murray, was beseiged as we protested the dismissal.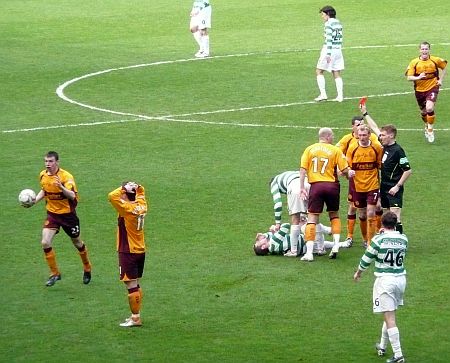 Early bath for Boab

There was clearly a feeling of injustice in the air and it was obvious that a renewed determination to defend the lead had spread through the Motherwell ranks.


We were pinned into the last third for the rest of the game but defended magnificently.McGeadie caused problems on the left but Craigan and co coped well with the crosses.Smith had relatively few direct saves to make but dealt well with any threat which penetrated the ranks of defenders.


Porter covered miles particularly when he had to forage on his own as the game moved into the last quarter yet he often tracked back and made tackles of our own dead ball line.


Murphy replaced McCormack and Quinn limped off as McLean came on for the frantic last five minutes.The officials added three minutes but after what seemed like an age the whistle sounded.
The few hundred Well fans were all on their feet before the game ended and celebrated the win with the players.They are off to the sun for most of the week as they plot and plan a repeat win when the champions visit Fir Park for the next game.


Hopes of a third place finish are very much alive.Well done!