Motherwell took all three points with a comfortable 3-1 win at Dens Park. Johnson, Bigirimana and Campbell scored the goals.
It was no surprise to see an unchanged Motherwell eleven take to the pitch and from Bigirimana's kick-off we took the game to the goal that accommodated the travelling fans.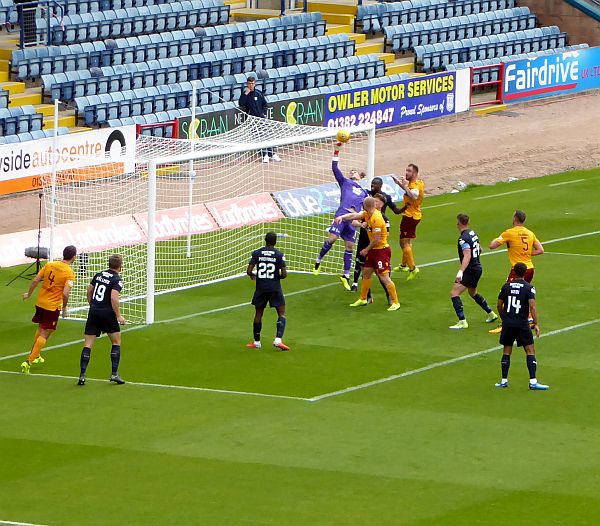 The first chance came in the fourth minute when Rose got on the end of Bigi's corner. The header was on target and low down but Hamilton parried. Johnson failed to convert as the ball spun beyond him.
Main and Johnson seemed set on shooting at every opportunity and several attempts flew wide. Bigirimana took an early yellow card for a defensive foul but we continued to hold the upper hand without creating clear cut opportunities.
Main was presented with one in 28 minutes when Meekings lost the ball 20 yards out. The striker scuffed his effort wide. Dundee had three corners in as many minutes but we held firm.
Meekings was substituted a minute before the break by Inniss. The half-time team talk might have included a whisp of frustration that our attacking possession had not delivered a goal.
Cadden was removed from play in 52 minutes and Frear came off the bench. Our number 7's disgust was evident but he had lacked the usual sparkle.
The substitution proved its worth minutes later when Frear took advantage of Kasunga's slip to cross to the unmarked Johnson on the six yard line. He turned and thrashed the ball into the corner of the net to give us the lead our play deserved.
BIgirimana deserved the acclamation that followed his free kick in 67 minutes. From 25 yards he beat the wall and the 'keeper to bring the away fans to their feet as the ball hit the net.
The cheers were quietened five minutes later when Kallman rose above our defence to head home. The home fans now had something to cheer.
The Dee had their tails up as they pushed for an equaliser. There were a few scares but the issue was settled when Campbell pounced on the loose ball following Bowman's blocked shot to blast home. 3-1.
Our first win of the league campaign leaves Dundee isolated at the bottom of the table and sends us into the international break with a smile.
Dundee 1 Motherwell 3
Attendance 5,137 (500)
Team: Carson, Tait, Aldred, McHugh, Hartley, Cadden (Frear 52), Campbell, Bigirimana, Rose, Main (Bowman 83), Johnson (Sammon 70)