Not good enough. Motherwell lost to a first half Thistle goal and never looked likely to recover. Second half changes brought some improvement but we could find no way through the home defence.
There were two changes to the team that drew with Hamilton in midweek. Hammell and Blyth dropped to the bench making way for Jules and a first start for Gordon.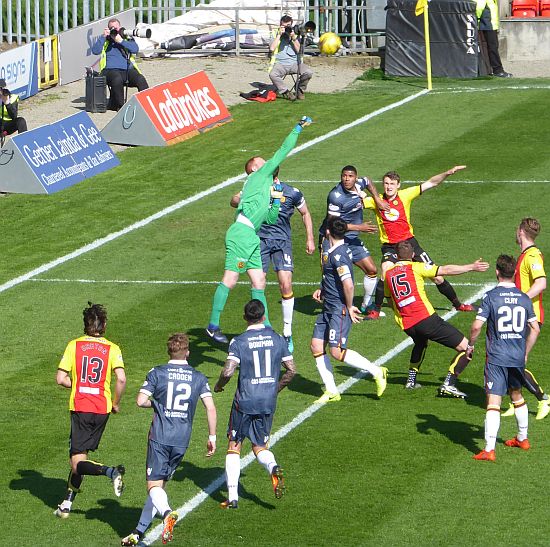 First half defending
It was soon clear that the changes had done little to strengthen the team. We were fortunate to be only one goal behind at the break. Thistle made far better use of the ball by using the cunning tactic of passing to a strip in red and yellow. In comparison we relied of defensive clearances punted in the vague direction of McDonald and Bowman only to see the ball returned seconds later.
It took our hosts 10 minutes to take the lead. A throw-in level with our box developed with Erskine delivering a low cross into our six yard box where a grateful Doolan finished. Cadden was the defender on the wing and he failed to stop the cross.
Lawless almost doubled the lead when his deflected effort looped over Samson but the bar saved us. Our fleeting appearances at the other end started with an early Gordon cross to McDonald at the far post but a devine block earned us only a corner. As the half closed Frear took a free kick from a fine position 25 yards out on the right but his wild effort typifed our poor performance. By this time our drum had stopped and the decent travelling support were making their displeasure known.
Something had to be done and it came in the form of a double substitution. Lasley and Answorth replaced Clay and Frear at the start of the second period and we switched to 4-4-2.
There was more urgency in our play as the captain drove us on. We came close in 62 minutes when McDonald almost clipped Gordon's tempter to the far post. An Ainsworth free kick found Jules and his header was saved one-handed by Cerny on the line.
Frustration grew as Thistle wasted seconds with every opportunity but we couldn't break the Thistle defence and they celebrated their entry into the top six while we grow increasing concerned at our league position.
Partick Thistle 1 Motherwell 0
Attendance 3,920 (810)
Team: Samson, Heneghan, McHugh, Bowman, Cadden, Frear (Ainsworth 45), Clay (Lasley 45), Jules, Gordon(Blyth 72), McDonald, Pearson