There will be no claret and amber ribbons on the cup following Celtic's convincing 3-0 win at a rain soaked Hampden. The game was still alive until the final 15 minutes but Motherwell rarely threatened and can have no complaints at the result.
Few would have guessed our opening eleven. Neither Ross nor Saunders featured and we were presented with the rare sight of Hammell in the left side of centre midfield with Jennings camping in front of the back four. Sutton was banished to the lone striking job until Jeffers came on to offer him support just before we lost the second goal.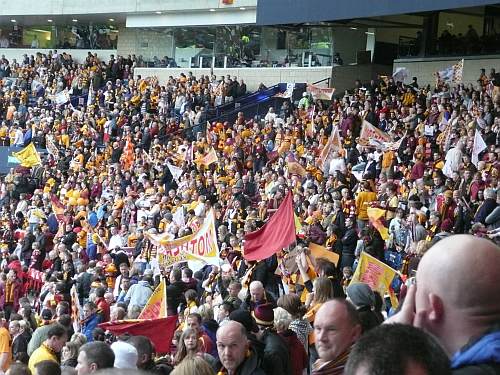 One half of the great 'Well support
Most of the first half was spent denying the opposition the chance to play and as a result there was little silky football on show from either side. It was brightened up only by a couple of great long range efforts and a pair of baffling refereeing decisions.
Ki broke the deadlock when he made the best of a shooting opportunity in 32 minutes. He fired a fierce effort that beat Randolph to find the net in his right. It was a fine goal but we almost responded with a fine counter. Gunning unleashed a cracking shot that Forster beaten but it cracked the underside of the bar giving one goal deficit at half time. ((Had it been a couple of inches lower there might have been a cheerier report!)
The wet conditions made tackling difficult and the yellow card was much in evidence. Majstorovic had already been cautioned but his handball, though penalised, did not persuade the referee that a second yellow should follow. It seemed that the scales were balances when Craigan avoided a similar fate on the edge of his penalty area.
The Motherwell end had reason to hope for a recovery for a spell in the second half following intense early pressure from Celtic. We seemed to find a wee bit of belief but, in truth, scoring chances did not result.
Hammell was withdrawn and we reverted to the 4-4-2 shape with Jeffers giving Sutton some company but within minutes Craigan's deflction of Wilson's shot ended our hopes.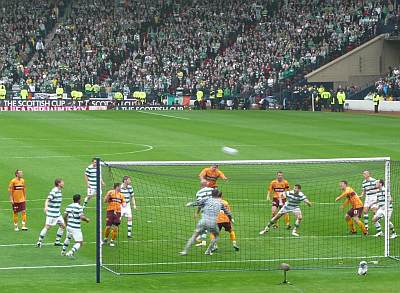 A rare 'Well attack
If any doubt remained Mulgrew's thunderous free kick settled the issue two minutes before the final whistle.
It was a sad and wet Motherwell support that trooped from the stadium while Celtic celebrated heir victory with their fans. There's no doubt that the squad deserved the consolation round of applause at the end of the game but there will remain a nagging doubt that we might have offered a bigger challenge.
There's always next season!