Motherwell and Dundee played out an uninspired 0-0 draw in which defences came out top. It was the first goalless encounter between the teams for 30 years. Let's hope we have to wait as long for the next one.
At least the crowd was kept warm by the bright August sunshine. The football rarely raised a cheer and goalmouth excitement was almost non-existent.
Motherwell spent most of the first half spreading the ball around in the South stand end with Clay and Ainsworth having early pops at goal. The visitors seemed content to let us come to them but we were unable to create any clear cut chance.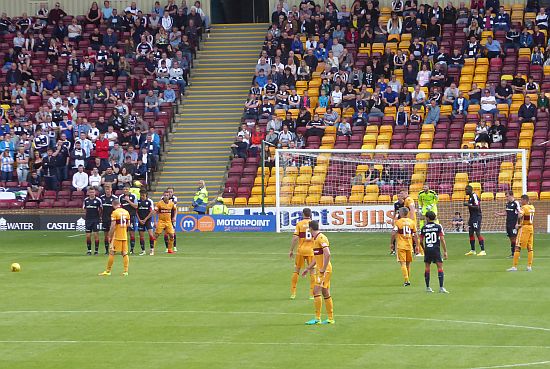 Johnson tries his luck
Cadden's power from midfield and Johnson's runs threatened to produce some reward but either the final touch was poor of the O'Dea and Gomis combination kept us out. El Bakthaoui gave us a couple of scares when Dundee were able to make rare thrusts into our area but Samson coped with the little asked of him.
Dundee stormed into attack at the restart and forced three corners in the opening two minutes but the intensity soon wavered and the game settled into a more even contest with the ball lodged in midfield for long spells.
Ainsworth roused the crowd from their slumbers with a 25 yard blast that had Bain at full stretch and we had more to cheer when McFadden replaced him for the last ten minutes. But our talisman was unable to work any magic and the game petered out with both sides gaining a point.
There was a half-time interview with Louis Moult that suggested that he might be back for our next game in a fortnight. His return can't come soon enough!
Motherwell 0 Dundee 0
Attendance 4,078 (599)
Team: Samson, Tait, Heneghan, McManus, Hammell, Ainsworth (McDonald 79), Johnson, Cadden, Lasley, Clay, McDonald