Motherwell lost to a first half goal at Ibrox but the visitors deserved at least a point.
Once again Stuart Kettlewell will be able to praise his players for their attitude and good play but the fact remains that Rangers took the points. The home side were content to kill the game in the closing minutes.
Paul McGinn, now suspension free, replaced Shane Blaney and Motherwell kicked off. The travelling fans had expected to see the ball dominated by the home side but it was glued to the claret and amber players for most of the opening 20 minutes.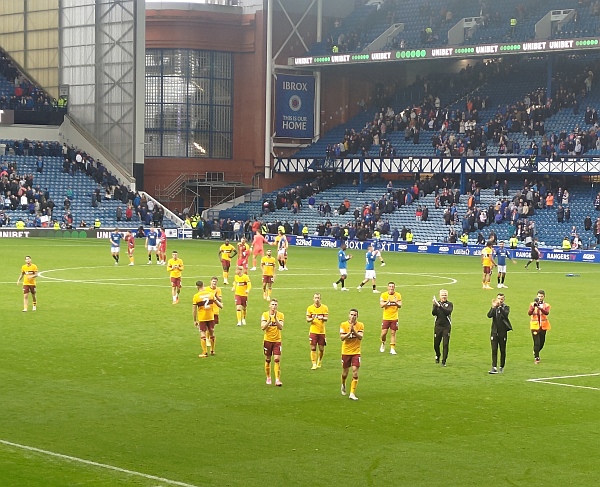 Harry Paton produced and early shot and later Bevis Mugabi took advantage of weak defence after a corner to chance a header. Brodie Spencer was next to test Buckland but there was no reward for the early pressure.
Attacks at the other end were rare but with the help of a defection to Matondo's 22 yard shot Cyriel Dessers scored the opener against the run of play. His effort illustrated the difference between the forward players, Motherwell had few shooting opportunities from outside the penalty area.
Motherwell were less fluent in the second half and stout defending was needed to protect Liam Kelly's goal. He produced a couple of high class saves from close range on the hour.
Kettlewell started to turn to the bench with 20 minutes remaining. Lennon Miller had been booked and he was replaced by Oli Shaw. The midfielder had delivered another high class performance.
Shaw had his chance for glory after five minutes. Following a bizarre head tennis passage Theo Bair released Shaw inside the box. With the goal gaping his shot gave Buckland and easy save.
Further positive substitutions followed as Motherwell pressed relentlessly for an equaliser. The productive partnership of Callum Slattery and Blair Spittal almost delivered with time running out. Spittal's effort came off Tarvenier on the goal line and Buckland was fortunate to clutch the loose ball.
So it was another tale of what might have been. Motherwell played well for no reward. Better luck next week.
Rangers 1 Motherwell 0
Attendance
Team: Kelly, O'Donnell, McGinn, Mugabi, Casey, Spencer(Gent 83), Spittal, Slattery, Miller (Shaw 70), Paton, Bair (Wilkinson 76)
Sunday 24 September 2023