Motherwell were out fought by Dundee and lost 2-0. Although there wiil be complaints about the officials ignoring a clear 'Well goal the final result was rarely in doubt.
Much will be made of the events that followed the deep cross from McDonald half way through the first period. Mitchell was in position to clutch the ball and under no pressure. But with the ball grasped high above his head he stumbled and took a big step back into his goal. The 400 Mothewell fans in close attendance rose to claim the goal but to their dismay the officials turned away.
Hammell and Lasley replaced McMillan and Lucas in the starting line up but the return of the experienced duo did nothing to aid the poor performance of their team-mates. For the most part the game was scrappy and the ball spent much of the time in the air but most of the flow was to Samson's goal. Motherwell could not get any fluency in their play as the opposition's determination forced errors.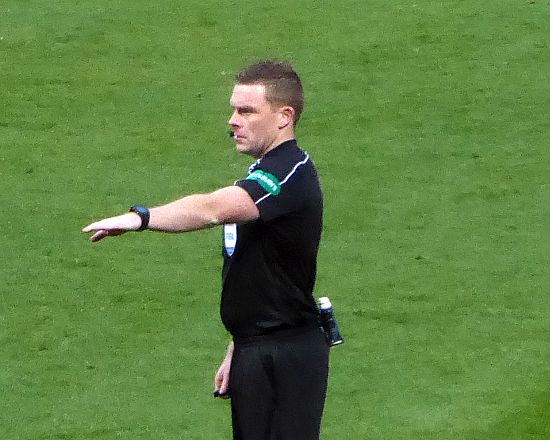 Referee Beaton - not his best day!
Following the goal that never was McDonald headed an Ainsworth cross straight at the 'keeper from eight yards and Ainsworth had a fierce shot blocked.
We might have reached the break on level terms but McDonald was punished for carelessness on the halfway line and Dundee charged forward with the ball eventually falling to Kerr for an easy finish. The catcalls to the officials as they left the field were deserved but it was obvious that we had to step up our game if we were to salvage anything.
Hammell remained in the dressing room at the break and McMillan joined the fray at left back. There was no resurgence, no fight back. Only hopeful punts upfield that were gleefully returned by the Dundee back line.
Lasley and Ainsworth were pulled on the hour as MacLean and Thomas were given a run but it madeno difference.
Wighton caused our defence many problems and one of his runs set up Haber ffor the killer goal on 80 minutes. We had no answer.
Dundee 2 Motherwell 0
Attendance 5,471 (385)
Team: Samson, Tait, Hammell (MacLean 45), Heneghan, McManus, Ainsworth (MacLean 60), Moult, Cadden, Lasley (Thomas 60), Clay, McDonald