Motherwell suffered a third consecutive defeat against Kilmarnock. A series of early injuries forced three substitutions inside the opening half hour before Jordan Jones sealed our fate with 25 yard curler. To add to our woes Curtis Main was sent off to leave his beleaguered team-mates to battle on for 20 minutes.
Festive cheer is in short supply at Fir Park. David Turnbull missed the game due to a viral infection and under the guidance of Keith Lasley (as the manager served the second of his three match bans) we started with three changes in personnel. Taylor-Sinclair, Frear and Rodriguez-Gorrin started in place of Grimshaw, Mbulu, and Turnbull.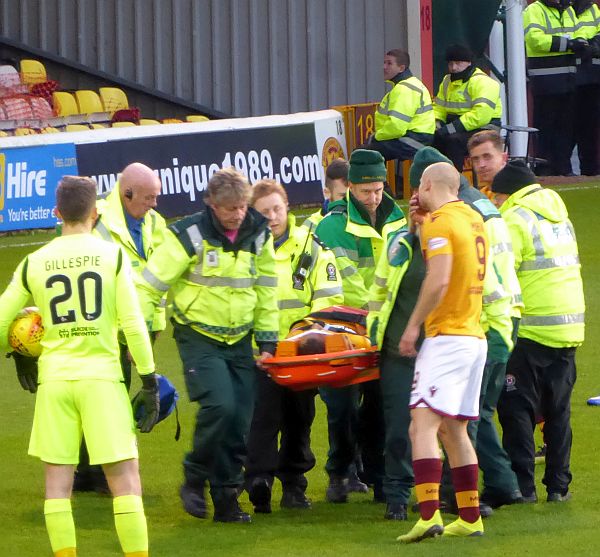 All the best Charles...hope it's not too painful
The selections did not inspire confidence but the game plan was effectively binned when Carl McHugh and Charles Dunne took each other out leading to a long delay to treat head knocks. Gael Bigirimana and Christian Mbulu came off the bench with 16 minutes on the clock. Mbulu lasted 10 minutes before he joined his colleagues in the ambulance. Liam Grimshaw was our third substitute and half an hour had yet to pass.
The winning goal followed soon after. Jones, well beyond the angle of our penalty area, dispatched a curling effort that beat Mark Gillespie to find the far side of the net.
In fairness to the eleven they stuck manfully to the task. Frear and Grimshaw made a few runs on the wing but our chances were few and far between.
Main did us no favours when he turned a bog standard yellow into a red as he pushed O'Donnell to the ground. A heavy fine would not be unreasonable.
Bigirimana had an opportunity to snatch a point but his far post volley missed the target.
We patiently await an outbreak of football. Maybe we'll get a surprise at Hamilton on Saturday.
Motherwell 0 Kilmarnock 1
Attendance 5,436 (1,860)
Team: Gillespie, Tait, Taylor-Sinclair,McHugh (Bigirimana 16), Aldred, Campbell, Main, Frear, Dunne (Mbulu 16,Grimshaw 28), Rodriguez-Gorrin, Johnson
Wednesday 26 December 2018