The result is as much a blow to Motherwell's ambitions as it is a boost to the home team's avoidance of the playoff place.
A calf strain on Friday caused Hutchinson to miss out and Ainsworth stepped in. Kerr shared central defensive duties with McManus. A very healthy Motherwell support soon had plenty to cheer about as we raced to an early two goal lead.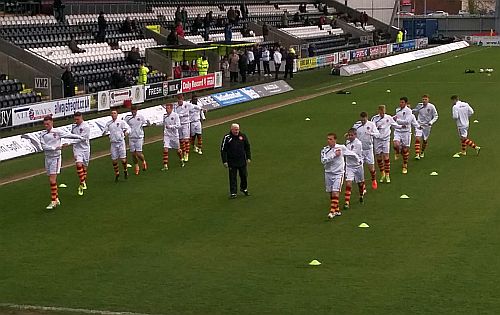 The team prepares...
There was a chance at either end before we got one in the net. Nielsen pulled off a very impressive one handed save to deny McAusland when he headed the first of what was to prove to be a significant ongoing threat from set pieces. At the other end Sutton fired a powerful header just off target before we got the opener in 17 minutes. Hammell dispatched a long diagonal and Ainsworth beat the offside trap to take possession wide on the right. Dilo was drawn to the threat but the ball was rolled to Anier who swept home.
Our inability to defend corners was again evident when Goodwin's header missed when he should have hit the target. Our lead doubled before the half hour. Hammell's deep cross was met by Ainsworth and knocked in for Sutton to pounce close in. The home defence looked very unsure and although there was an hour to play few in the stadium would have given much for St Mirren's hopes.
Thompson made no mistake when the ball landed at his feet when we failed to deal with a corner (no surprise) just before the break. From 8 yrds he passed into the net.
There's no doubt that we were second best in the second period. Nielsen produced a couple of fine saves from Thompson as the Buddies fought to get on level terms. We had a couple of chances but those apart, Dilo was untroubled. Ainsworth and Moore will regret that they did not convert.
The game turned when substitute referee Brines awarded a penalty when the ball struck McManus in the face. McCall was to call the decision "a complete joke" and video evidence seems to support his view. McLean scored. We were still reeling from the loss when Thompson scored the winner with a near post finish.
We have a free week end ahead and efforts will be made to restore a few of our wounded to fitness for the visit of Celtic in a fortnight.
Team: Nielsen, Hammell, McManus, Kerr, Reid, Leitch, Lasley Ainsworth, Vigurs, Anier (Moore 70), Ainsworth (Francis-Angol 81)