We were soundly beaten at Ibrox today and we have Mark Brown to thank for keeping the score down to three - nil. The rest of the team battled hard and there was no lack of effort from the outfield players either.
In truth we were overrun for long periods in the game and the opposition were, at times, toying with us. They tried to walk the ball into the net rather than do the simple thing and stick the ball in the goal.

Before the game Billy Davies spoke of his belief that the team would get better 'game on game'. Let's hope he's right because there's a long way to go until we will be able to compete with the top level in the SPL.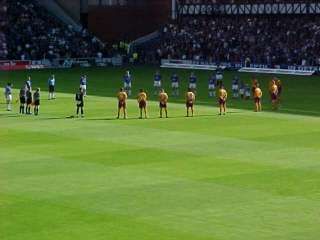 Silence well observed


Pearson got his second start in a row and had our best chance of the match inside the first minute. Klos forced him to run wide rather than try a shot and the two or three hundred 'Well fans who made the journey knew that the miss would be crucial.

The game then took on familiar pattern. Wave after wave of Rangers' attacks and frantic defending on our part. We will pay a price for the seven bookings issued by referee McCurry. There were few complaints at any of them and, indeed, it could be argued that he gave us a few breaks.

After the penalty awarded against us in the first half (saved by Brown), Karl Ready could have been sent off for punching - the yellow card was lenient. At half time few 'Well fans would have expected us to finish with eleven players and at times in the second have it looked likely that we would be reduced to ten.

There have been mutterings about our lack of effort and commitment in the last two games. No such accusation would be justified today. At least we went down fighting.

Kelly and Elliott covered miles in their hunt for the ball but to little effect. Late in the second half (two down by now) both teams brought on replacement strikers. We produced Adams and they brought on Cannigia! Maybe we could have put up a better show if Dow and Twaddle had been available but the knocks they sustained against Hibs last week ruled them out of the pool.

As BD said during the week, 'no one expects us to take points from Ibrox'. And so it turned out. But we are now bottom of the league on goal difference so things had better improve soon. No time better than against Hearts next week!