A good show from the Silly Saturday travelling fans greeted the team at East End Park with confetti, flags and not a few silly hats. They had a great day in the sunshine and celebrated the 2 - 1 win in style.
An interesting snippet from the Pars programme today was that Dougie Arnott, Tommy Coyne and Nick Cuzack had all scored four against Dunfermline in years gone by. Stuart Elliott could join these 'Well heroes if his goal scoring rate continues and his double today secured the points.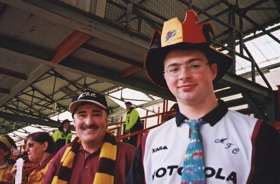 We adopted a 4-3 -1-2 formation again with Townsley and Kemble in centre defence. Nicholas was given a role in right midfield and Twaddle and Elliott started up front.
Jimmy Calderwood gave a warm greeting and handshake to Ben Kemble as he ran out for the warm up.......hmmm, interesting
We got the perfect start in eight minutes when Stuart Elliott scored his first of the afternoon. He brought the ball in from the left wing and with the defence posted missing he fired a low shot between Ruitenbeek and the post. One up with our first attack.
Things got better in sixteen minutes when Elliott met a good corner from Twaddle and headed home. Two up and cruising?
Dunfermline woke up and started pushing us back. After half an hour Crawford came close and his header found the base of the post. And shortly after they made the score 1-2 when Chiba needlessly brought young Fotheringham down, Crawford gave Stevie Woods no chance from the spot.
Lasley replaced Chiba at the break and Ramsay replaced Harvey after an hour. The pars kept pressing and forced a glorious flying save from Woods. Then Wood came on for Twaddle.
With a few minutes left Doesburg pulled Elliott's jersey as he ran through with only the keeper to beat and the Pars were reduced to ten men.
The clock ran down and we secured the points, jumping The Pars in the process. We deserved the points against this poor Dunfermline side and the win will be a huge boost to the young 'Well team.
A delighted Billy Davies looked on as Stuart Elliott talked to the press saying that the manager was giving him stick for failing to get his hat trick. BD then added, "we had opportunities at two nil to kill the game and score another" but expressed his delight at the performance of the young players. He made it clear that the management team now have a responsibility to bring in "more experienced players" to back up the youngsters. Team:
Woods
Corrigan Kemble Hammell
Harvey (S60 Ramsay ) Pearson Chiba (S45 Lasley ) Townsley Elliott
NicholasTwaddle(S75 Wood
Subs unused:Connolly McFadden
Referee J Underhill
Attendance 2,610
Dunfermline 1 Motherwell 2
12 May 2001
Back to Match Reports