A scrappy hard fought affair saw a share of the points at Fir Park this afternoon. For long spells the ball was in the air more than on the ground and even the presence of the somewhat muted Livi drummer could not raise the level of entertainment on show.
Billy made a few surprise changes to the line up. The young squad made its debut this term. Starts from McFadden, Lasley, Forrest then Pearson from the bench gave Martinez, Elliott and Twaddle a rest from a full ninety minute game.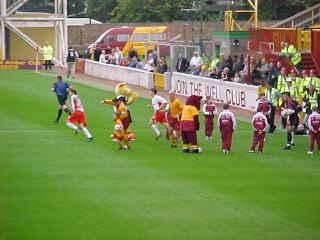 Out come the teams


We started with a 4-4-2 formation with Eddie Forrest partnering Karl Ready in central defence but the performance in the first twenty minutes forced BD to make a shrewd tactical switch after twenty three minutes. He brought on Pearson to replace Hammell and moved to 3-5-2. The switch worked and for the rest of the game we gave as good as we got.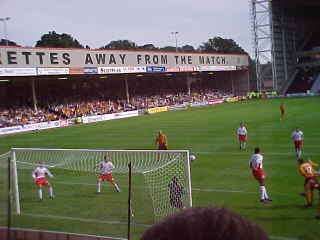 Ned hits the post


It took half an hour before we managed a corner and shortly after Pearson made the first of several impressive runs from the left side of the park. On this occasion McFadden was the recipient of the ball and he struck a fine shot. But that was to be his last contribution as he was subbed for Twaddle at half time.

Almost immediately we looked to be taking control with a corner and then another fine run from Pearson. In sixty two minutes we had our best chance of the match. A corner from the right wing was headed back across the face of the goals to the near post to Andy Dow - his returned header found David Kelly and the striker's header beat the goalie and hit the inside of the post. Nae luck Ned!

Martinez replaced the booked Leitch with twenty minutes left but the pattern of the game hardly changed.

The last ten minutes were fairly frantic and Mark Brown pulled of a couple of great saves to keep the score level. Another day, another point. The team has now played five competitive games and yet to record a win.