If Mio and Softy can get effort and commitment from the players at that level every week then they deserve the job. In a hugely impressive performance we matched Celtic throughout the game and we were unlucky not to take anything from the match.
We were level with two minutes to go and succumbed to the inevitable late penalty which was awarded by referee Rowbotham. Fierce protests followed and he was booed off the park a few minutes later.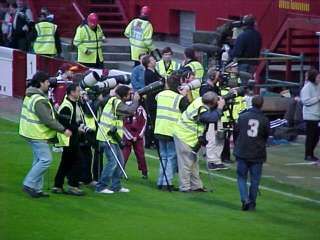 Who were they watching in the stand?


The main change to the starting line up was the appearance of Greg Strong replacing Martyn Corrigan on the right side of the defence. The consistency of selection demonstrated by the caretakers has produced several very good performances.

Nicholas had another fine game - an indication of his enthusiasm was seen at kick off. As the ref blew his whistle Nicholas was off on a forty yard dash down the right wing where he earned a shy. The whole team was immediately in attack mode.

The young winger was ably supported by the rest of the squad. Special mention has to be made of Lasley and Pearson. Their tireless running stifled the Celtic midfield and the frequently won possession.

We were unfortunate to be behind at the break. In his only error in an otherwise good display, Mark Brown made no attempt to stop a thirty yard free kick from its path into the net via the bar. The suspicion is that the ball dipped when the goalie expected the flight to take it over the top.

The home support was delighted at the performance of the Steelmen at the break. The game was still there for the winning. But the second half performance was a stunning exhibition of graft and hard work from every one of the boys in the claret strips.

Rarely has the Fir Park support been raised to such a level of noise as we cheered the team on. In the first twenty minutes we sent wave after wave of attacks in on the goal at the Cooper Stand end. And were fully entitled to the equaliser which came though a bit of trickery from Need Kelly.

A corner was partially cleared and Strong shot from around twenty yards in the direction of the post. Kelly was a few yards out and instead of attempting a flick he dummied and the ball continued on its way to the corner of the net. We were after the winner!

But the clock ran down and a draw looked likely - until, surprise surprise, the visitors got the late penalty and stole the match.

If we go at both Dundee teams in the same way in the next couple of games then, regardless of the managerial appointment, we'll bag a few more points