Who would be a manager? You choose the correct eleven, see the opposition reduced to ten man, make the right substitutions and then watch your side be outplayed! Oh dear, oh dear!The last gasp goal saved a few blushes but can't hide the fact that we were lucky to get a point. For the most part Killie commanded the game and always looked the more likely to score.

We got off to a poor start when the centre of the defence was posted missing as Mitchell ran though without challenge. His shot left Brown helpless and came back off the post to the unmarked Ngongi who had an easy job to put Killie one up.

Our frustration resulted in Leitch and Ready entering the referee's book and Billy switched to a 3-5-2 formation with Corrigan in the centre. We began to move forward and a long deep cross from Twaddle was met by Dow beyond the far post. One each, time to regroup. But the ref persisted in making dodgy decisions and Ngongi was booked unfairly after a harmless challenge with goalkeeper Brown. He was then dismissed after a bad tackle on Hammell. The usual East End Rammy followed. At least the temperature of the game had been raised.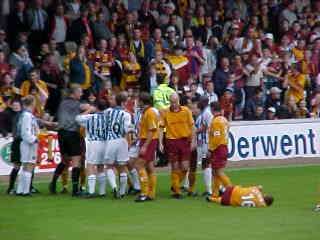 This week's rammy in front of the East Stand!


Billy then made the first substitution be removing Ready and bringing on Forrest. Smart move - the big man had lost it and would surely have been sent off otherwise.

Half time gave us time to plan a second half campaign against ten men. Adams came on for Leitch and we had three up front. But to no effect.

Dow continued to play well and Forrest looked the part too. However we rarely looked like using the numerical advantage. Frustration grew, balls were punted up the park but Marshall was untroubled.

It came as no surprise when Elliott (who failed to inspire) lost possession in midfield. Strong had plenty time for a clearance but rushed it. The ball fell to Killie and was floated to the far post. There was Mitchell in splendid isolation (our defence were all at the front post!) and he volleyed past Brown.

To be honest it looked like the game was lost and the fourth official held up the board showing two minutes extra. The clocked ticked on and Twaddle found the ball at his feet on the right. The cross found Elliott's head and we were level. A great goal but really it was only a face saver.

Billy had the dressing room door closed for some considerable time after the game - strong words were needed.

It looks like another important six pointer at Aberdeen next week.