An excellent, hard fought performance earned three points against the Dons and gives Eric Black consecutive home wins. James McFadden scored a smashing late goal to grab the points after we lose a two goal lead.
'Well fans could hardly believe the fairy tale start we made. An early own goal from McGuire, under pressure from Pearson set the tone. In seventeen minutes a corner headed back by Ready was chested by a defender. Elliott pinched it before it landed, turned and swept the ball into the net.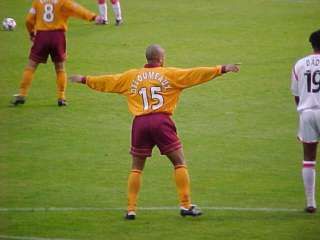 Eric Deloumeax - good game today.


Two up after fifteen minutes - a novelty for the new management team. But the Fir Park regulars knew that the game was far from over.

Sure enough, shortly before the break we conceded a goal. A high ball into the box was met with some indecision by the defence and resulted in Corrigan challenging Winters for the ball. The forward got there first and the ball sailed over the stranded 'Well keeper and into the net. Two-one at the break and a nailbiter of a second half in prospect.

It was a cracker. End to end stuff and fiercely fought. The ref started to wave the yellow card and tackles started flying. Elliott, again, was superb. His running produced five corners in the half and he kept sending dangerous crosses across the goal.


With ten minutes left Zeroualli produces a wonderful curling strike to equalise. The home support feared the worse but the players refused to give in. They kept on task and produced the winner a few minutes later.

A quick shy to Pearson, a pass to Elliott and a far post cross found McFadden with an almost identical opportunity to that which he had rehearsed ten minutes before. On the first occasion his fierce header was directed directly at the keeper. But the second was a peach, angled fast and low and crossing the line at the post. The biggest cheer at first park all season followed.

We held off the final assault by the Dons and gathered the points.

A superb effort by all the players. Special mention has to be made of Eric Deloumeaux who played in the centre of defence. He looked composed and played well despite the sometimes frantic scenes around him.

Bring on Livi.