It was all too familiar. Motherwell's ability to concede a breakaway goal while pressing for an equaliser has virtually ensured that the second leg of the Europa League will be a formality. FC Kuban thoroughly deserved their 2 -0 victory.
The frightening statistic is that we have now lost three consecutive home legs in european competition 0-2. Stuart McCall has yet to see his team score a goal against foreign opposition in five attempts. There's no doubt that our opponents have been of a higher standard but it's galling to see the same basic errors costing us dear.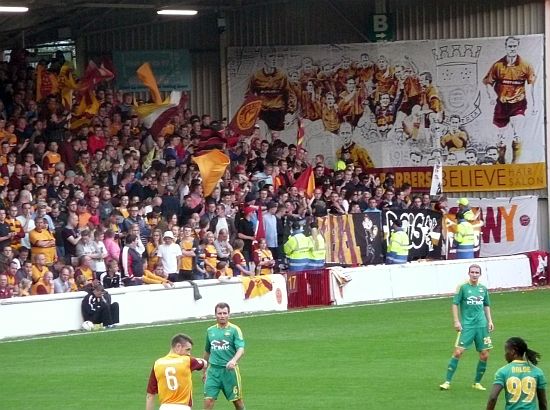 We were still in the game in the first half
There was a change from the eleven that started against Nottingham Forest last week, Francis-Angol started in left midfield in preference to Bob McHugh. Our tactics became fairly clear early on when we saw Ramsden's first three possessions turned into hopeful punts to Sutton and we got some value as both the striker and Vigurs got off a couple of low drives toward the Russian goal.
There seemed to be a nervousness from both sides in the first quarter though the warning signs were there when Balde unleashed a 25 yard effort that rattled the bar. He is a fine striker and as the game developed he would prove to be a decisive factor in our defeat.
Faddy was forced to play deep and his defensive talents were stretched as Bugaev skinned him before unleashing a powerful shot that we were happy to see blocked by Hutchinson. Francis-Angol was largely ineffective in the first half and he had few chances to use his pace but he did produce a fine cross in 35 minutes that Sutton headed over the bar.
All the same there was some relief that we were level at the break. Another 45 minutes without a goal would have kept the tie alive. Unfortunately the visitors determined to finish the game in Motherwell and when Balde left defenders in his wake to finish with an easy pass to the waiting Popov we fell one behind.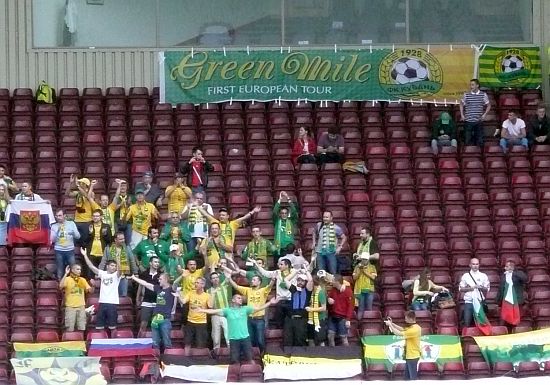 Happy Russians
Only an excellent save from Hollis kept us in the game on the hour when Popov latched on to a deflected free kick to blast goalward. Our square passing became a little more direct as we pushed forward and there were occasional flurries in front of Belenov's goal. Hutchinson had a chance from a corner but headed high.
The succer punch came inside the last 15 minutes. Our corner was cleared and fed back to Hammell who was the rearguard on the centre spot. His attempted pass to Francis-Angol on the wing was intercepted and the recurring nightmare unfolded. In five seconds Balde was in the area and able to supply Popov with another easy finish to give us a mountin to climb next week.
Sutton saw his injury time header rebound from the post and the game petered out. Maybe we'll learn the lesson in time for next year's campaign?
Have your say on the messageboard.
Motherwell 0 FC Kuban 2
Attendance 6,748
Motherwell: Hollis, Hammell, Ramsden, Hutchinson, McManus, Francis-Angol, Lawson (Anier - 80' ), Vigurs, Lasley, McFadden Booked (Kerr - 82' ), Sutton