The loss of three first half goals proved to be too much for a second half comeback. Ross County won the match 3-2.
The home side had three or four chances in the first 45 minutes and took three of them. Motherwell failed to hit the target. Halftime changes and a huge effort gave County a fright as we grabbed a couple of headed goals but there can be no complaint at the result.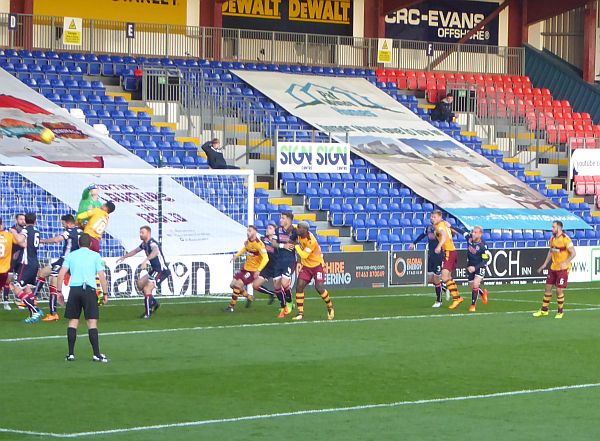 Stephen Robinson, serving his one match ban a dozen yards from the halfway line, made three changes from last week. Bigirimana, Tait, and Tanner joined their team-mates in the November sunshine as Bowman, Frear and Campbell took seats on the bench.
McHugh won the toss and switched ends to let McCarey deal with the low sun. We almost snatched an early lead when Tait delivered a tempting cross but Tanner just failed to connect with the attempted header.
Gardyne opened the scoring after 12 minutes. Davies won the jump for a high cross and the ball fell kindly for County. Gardyne had a big target to hit and Carson had no chance.
We came close when Hartley headed Tanner's free kick on to the bar but sloppy defending by Kipre gave Keillor-Dunn room on the right and the youngster slammed the ball into the net. We were rattled.
Worse was to come before the break. We failed (again) to deal with a high ball in the box as Davies rose above our defence. Kipre managed to clear off the line but Gardyne was on hand to fire home.
Frear and Bowman replaced Rose and Dunne as the second period began and it took only two minutes for the fresh men to justify the change. Frear delivered and Bowman headed beyond McCarey. It was the perfect start and our first attempt on target.
Pertavicius was thrown on for Tanner on the hour and we kept pushing forward at every opportunity.
There was no attempt at finesse on our part. The ball was fired to our strikers from all angles and with ten minutes remaining Cadden found Moult in the box and he headed into the net to set up the chance of a dramatic comeback.
It almost came on the 90th minute when Pitravicius delivered a long range throw-in. Bowman headed it on and Kipre rose above the rest to head on target but the 'keeper had a simple save.
It was a wholehearted second half effort but the game was lost by the break.
Ross County 3 Motherwell 2
Attendance 4,014 (293)
Team: Carson, Tait, Hartley, Kipre, Dunne (Frear 45), Rose (Bowman 45), Bigirimana, McHugh, Cadden, Tanner (Petravicius 59), Moult