Motherwell continued their dismal home form with a spineless 2-0 defeat at the hands of St Johnstone. An early goal in each half sealed the game.
That Motherwell left the field at half-time and full-time to the boos of the home support says all to sum up their performance. Two careless goals were conceded and St Johnstone had the game sewn up.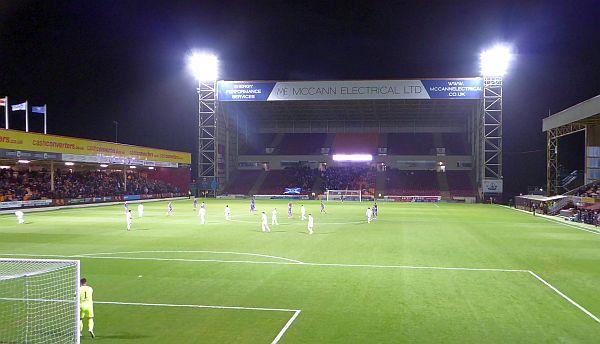 The score was 0-0 at this stage
It was a shocking showing by the home side that was unable to make any progress into opposition territory. Interplay along the back four and occasional forward probing was followed by misplaced passing or needless loss of possession. St Johnston had to do little creative work to win this game, a positive attitude and minimal competence earned the points.
Stevie Hammell gave debuts to four players tonight( two from the bench) and they must be wondering what lies ahead. Thankfully the team bus already knows the way to Arbroath for the form on show tonight points in that direction next season.
O'Donnell looked miserable at left back and he was replaced by Jack Furlong at the break. Callum Slattery joined O'Donnell in the dressing room as Dean Cornelius was given a 45 minute run.
At the warm up Riku Danzaki was accompanied by a translator. He may be better employed by passing instructions to the home based players. It did not look as though they had understood the manager's team talk.

The first goal, after four minutes, came when Nicky Clark drew the attention of three defenders in the penalty area. He squared to the unmarked Melker Hallberg on the right and the first time shot entered the net off the far post. That goal was enough to win the match as Motherwell managed only one shot on target for the remaining 86 minutes.
Hammell's defensive problems grew when Shane Blaney had to be replaced after half an hour. The defensive shuffle did nothing to ease his worries.
St Johnstone were given comfort five minutes into the second half when Hallberg collected from Stevie May to score in front of the 400 travelling fans.
There was no mention of a Motherwell Man of the Match.
Motherwell 0 St Johnstone 2
Attendance 4,131 (378)
Team: Kelly, McGinn, Blaney (Johnston 28) , Lamie, O'Donnell (Furlong 45),Slattery (Cornelius 45), Goss, Danzaki (McKinstry 60), Crankshaw, Aitchison,Van Veen (Obika 66)
Wednesday 1 February 2023
Motherwell Fixtures and Reports